Actions and Detail Panel
Lessons in classical drawing 25/26 March
Sat, Mar 25, 2017, 10:00 PM – Mon, Mar 27, 2017, 3:00 PM GMT
Description
Lessons in classical drawing is a creativ drawing projekt that enhances creativity and artistic confidence.
Drawing is learnable! The essence of the method is to learn to make a mental shift from left-mode to right-mode of the hemispheres.The left hemisphere uses verbal, analytic thinking and reduces its thoughts to numbers, letters. The right hemisphere is the one that responsible for visual thinking, uses patterns, recognizes faces. Operating in everyday life we mostly use the left hemisphere.
If you learn how to switch between hemispheres you will think and SEE differently and you are one step closer to solve visual problems.
Through simple exercises such as drawing upside down, you also get rid of the childhood symbol system. While listening to soothing music your inner monologue becomes positive, you build up self-confidence and will be able to see clearly what actually is in front of you. If you see well, you draw well!
On beginner level we improve basic drawing skill: outlines, positive-negative shapes, compositions, values.
It is a great, relaxing course. Not to be missed.
The organizer Beatrix Fekete is qualified art teacher and practising artists in Dublin.
For references/ website: www.beatrixfekete.com
About the workshop:
workshop from 10.00am-3.00pm

new location: LUCAN, 24 Fforster Lawn

2 day

1 hour lunchtime,

complementary coffee, buiscuit

all art equipment are provided (photos, pencils, charcoals, paper)
You can learn to draw, you just might not believe it and this is often the first stumbling block to attaining a new skill.
BEFORE/AFTER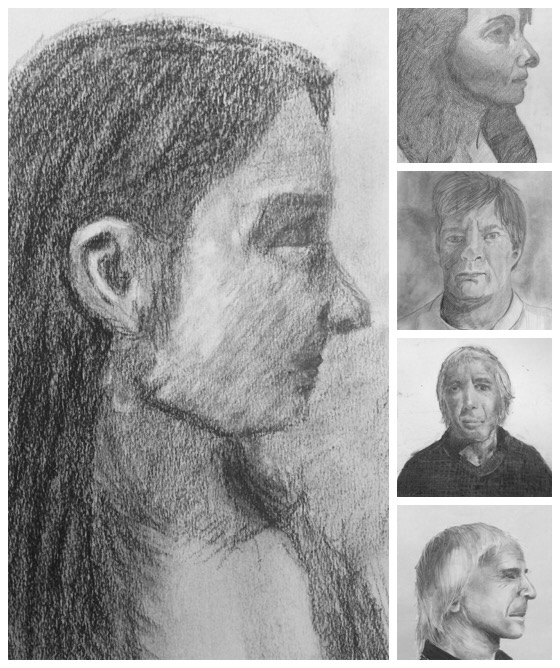 Beatrix
087 271 29 46