Lessons From Vanport and Katrina: a forum to create community resilience du...
Description
As part of the VANPORT MOSAIC FESTIVAL 2018, MAY 23-28
Vanport Mosaic invites the public to a diverse panel of voices that understands powerful rivers, engineering marvels, and human resilience. Emergency preparedness experts, advocates, and survivors will come together to discuss Portland's current flood risks, levee readiness, and disaster preparedness along the Columbia River, all in the context of the Vanport Flood.
WHEN: 1-3pm
WHERE: Portland Expo Center - Hall D

Seating is limited and RSVP recommended:
https://resilienceforum.eventbrite.com/
FREE - Donations gladly accepted at the door

Listen

to the stories from survivors of the Vanport flood and Hurricane Katrina, and from members of Portland's Houseless community.

Learn about the region's disaster preparedness efforts from the Multnomah County Drainage District, Portland Bureau of Emergency Management, and Multnomah County Office of Emergency Management.

Participate in interactive sessions on the topics that most matter to you.
This event is FREE. Donations gladly accepted at online RSVP and on site.
For questions: Karen Carrillo, MCDD Public Affairs & Project Manager: kcarrillo@mcdd.org
A collaboration with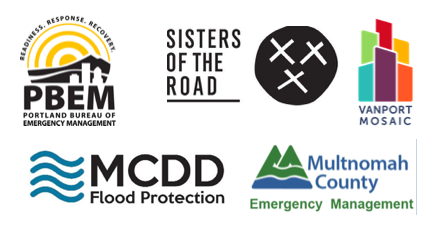 Organizer of Lessons From Vanport and Katrina: a forum to create community resilience during extreme weather conditions
In these time of collective amnesia, remembering is an act of resistance. The Vanport Mosaic is a memory-activism platform. We amplify, honor, present, and preserve the silenced histories that surround us in order to understand our present, and create a future where we all belong.
 www.vanportmosaic.org. Contact info@vanportmosaic.org
Our memory activism effort has been awarded the Oregon Heritage Excellence Award 2017, the Spirit of Portland Award by City Commissioner Nick Fish, and the Columbia Slough Watershed Council's Achievement Award.