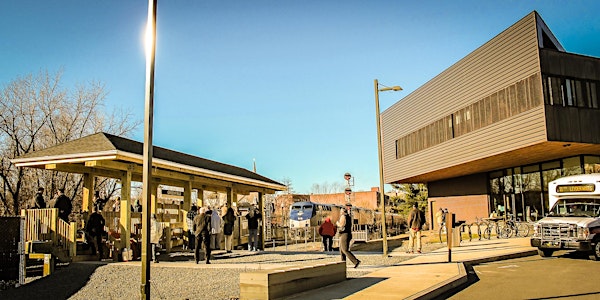 Lessons from the VERMONTER for Northern New England Rail Passenger Service
When and where
Location
Olver Transit Center 12 Olive St Greenfield, MA 01301
Description
Trains In The Valley is pleased to host the second event in a series of rail-related events in the Pioneer Valley.
Our guest speaker will be Carl Fowler, President of CHF Rail Consulting.
The event will be held at Greenfield's Olver Transit Center — which also serves the Amtrak station stop in Greenfield. The meeting location is graciously being provided by the Franklin Regional Council of Governments (FRCOG).
Carl Fowler has been an advocate for passenger rail service for over 45 years. He ran a worldwide rail tour company for 33 years and is a longtime member of the National Association of Railroad Passengers (now known as the Rail Passengers Association) and was for many years a member of its Board of Directors.
He made the original proposal to Vermont Governor Howard Dean's administration for the daylight schedule that became the Vermonter, when Amtrak decided in 1994 to discontinue its overnight Montrealer service.
The title of Carl's talk will be, "Lessons from the VERMONTER for Northern New England Rail Passenger Service."

Carl will share some history of northern New England passenger service and offer insights for a much more positive future in our region, drawn from his experience with other corridors like the Cascades and Capitol routes on the West Coast.

::
Carl has been a lifelong advocate for passenger rail service. When Carl's mother was born, his mother was a senior Pullman reservationist at Pennsylvania Station (New York) and his dad a "diagram runner" from the reservation bureau to train-side at Penn Station as well.
From 1982 to 2010, Carl was the founder/Vice President/General Manager of Rail Travel Center, a pioneer operator in the Amtrak era of tours by train. From 2010 to the present he has been the owner/President of CHF Rail Consulting, which also ran the Rail Travel Adventures tour program.
During his career Mr. Fowler booked more than 20,000 passengers on trips by train worldwide. His company offered Amtrak and VIA Rail Canada tours, as well as trips to Europe, Australia, New Zealand, South Africa and the first US market train tour(s) respectively to Vietnam, Morocco and Zimbabwe. He has traveled more than 350,000 miles by train.
Carl has been a member of the NARP (now Rail Passengers Association/RPA) Board of Directors and currently is the RPA Council representative for Vermont. He will be a candidate for RPA Vice Chairman at the April 2018 Council meeting in Washington, D.C. He has been a member of the Vermont Rail Advisory Council (to the Vermont Agency of Transportation) for a decade, representing Amtrak riders and is a member of the RPA/NARP, the Vermont Rail Action Network (VRAN) the National Railway Historical Society (multiple chapters), the Railway and Locomotive Historical Society, the Mass Bay Railroad Enthusiasts and multiple rail museum/preservation groups. He also consults on rail passenger service.
Frequently Asked Questions
SNOW DATE
The snow date for this event will be Wed. February 7th at the same time and location. If we postpone the event due to inclement weather we will contact you via email. (This is another good reason to register!)
Parking at the Olver Transit Center

Free parking is available for this event in the short-term parking lot at the Olver Transit Center.
Overflow parking (free after 5 pm) is available at the city owned lot on Hope Street, which is one block from the center.
What are my public transportation options for getting to and from the event?
While the Olver Transit Center is the hub from the Franklin Regional Transit Agency's bus network, only limited outbound bus service is available (on Routes 21 and 24) when the program ends. We suggest that you use this Google Maps link [Olver Transit Center] to check for available public transit options to/from the event.

Do I have to register to attend?

No, you don't. We ask that people register so that we get an idea of how many people to expect (for food, refreshments, seating, etc.) -- and so that we can contact you in case we have to postpone the event due to the weather.

How can I contact the organizer with any questions?
Please email your questions to TrainsInTheValley@gmail.com.

You can also visit our website at TrainsInTheValley.org.