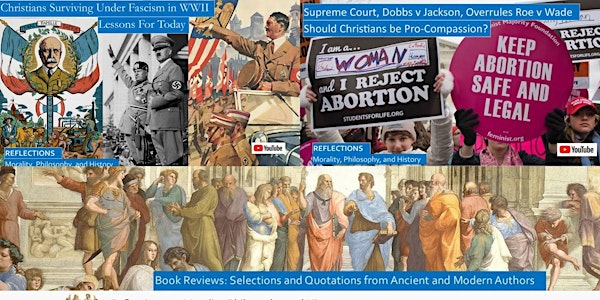 Lessons from Christians Living Under Fascism in WWII, & Supreme Ct Abortion
Lessons from Christians Living Under Fascism in WWII, & Supreme Ct Abortion
About this event
We will reflect on the lessons we can learn from the history of the experiences of Christians living under the fascist regimes of the World War II era, including Mussolini's Italy, Hitler's Nazi Germany, Franco's Spain, and the collaborationist Catholic Vichy regime in France.
We will also reflect on the Supreme Court ruling in Dobbs v Jackson overruling Roe v Wade.
This online discussion is a practice session for future YouTube videos. Questions, suggestions, participation, and input are welcome!
Please subscribe to my YouTube Channel, Reflections on Morality, Philosophy, and History: https://www.youtube.com/channel/UCLqDkfFbWhXOnzdjp__YZtg
My Blog: http://www.seekingvirtueandwisdom.com
Please join my Meetup Group for notices of future discussions:
https://www.meetup.com/Reflections-on-Theology-and-Moral-Philosophy