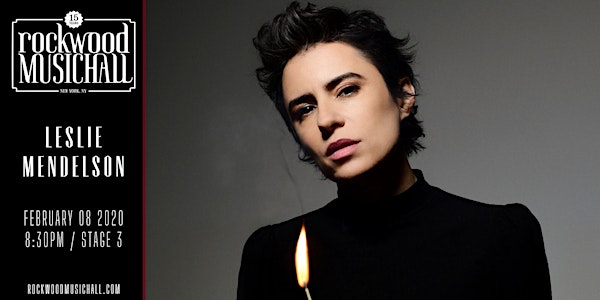 Leslie Mendelson
Celebrating Rockwood Music Hall's 15-Year Anniversary!
Location
Rockwood Music Hall Stage 3
185 Orchard Street
New York, NY 10002
Leslie Mendelson - Rockwood Stage 3
About this event
GA Seated || PLEASE NOTE: There is a TWO DRINK MINIMUM in the room.
Advance tickets are available online until 5:30PM, day of show. Any remaining tickets can be purchased at the door at showtime.
Acclaimed Brooklyn-based singer/songwriter Leslie Mendelson is touring in support of recent single releases, including "The Hardest Part" and "A Human Touch"—her duet with Jackson Browne for the documentary film, '5B'. She's also putting the finishing touches on a studio album, 'If You Can't Say Anything Nice…' due Spring 2020.
Where her previous work, including 2009 Grammy-nominated debut album 'Swan Feathers,' more closely dealt with matters of the heart, this time Leslie and her longtime writing partner Steve McEwan examine anxiety stemming from the current social climate with songs like "Medication," "I Need Something To Care About" and "Would You Give Up Your Gun."
'If You Can't Say Anything Nice...' will follow Leslie's 2017 release 'Love & Murder.' The recording features a duet with The Grateful Dead's Bob Weir on Roy Orbison's standard, "Blue Bayou," as well as, haunting originals like "Jericho" and "Chasing The Thrill." 'Love & Murder' led to two US tours opening for Roger Daltrey, a West Coast tour with Jackson Browne and two shows supporting The Who at Madison Square Garden. Glide Magazine declared it, "one of the best records of the year," while All Music called it a "poignant return."