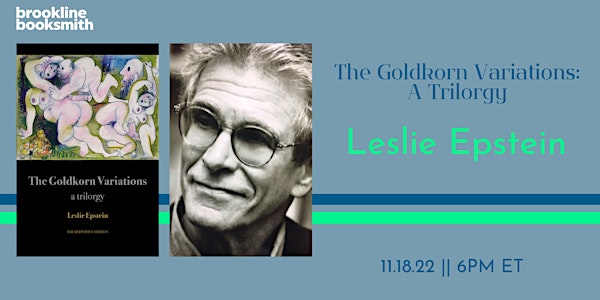 Leslie Epstein reads from The Goldkorn Variations: A Trilorgy
Read on for important registration and book order details for this Brookline Booksmith virtual author event!
Refund Policy
Contact the organizer to request a refund.
Eventbrite's fee is nonrefundable.
About this event
Celebrate the release of The Goldkorn Variations: A Trilorgy with author Leslie Epstein!
A note from our author:
"While one can attend this event for free and need not purchase the book through Brookline Booksmith, it would be grand if you thought you might be able to do so. The author has agreed to sign every copy bought--and even personalize the inscription if so desired."
How to Register
Register on this page to receive a Zoom link
Register free, support the store, or buy the book to enter the event
If you don't receive a confirmation email after registering, contact us
Get Your Books
Books are held for pickup or shipped after ticket sales have closed.
STORE PICKUP- Pick up your book in person at Brookline Booksmith (Click here for directions). You will receive an email alert when your book is ready.
SHIPPING - Have your book shipped via USPS priority mail. Shipping is only available in the United States.
If you have trouble checking out, check the Eventbrite FAQ located here.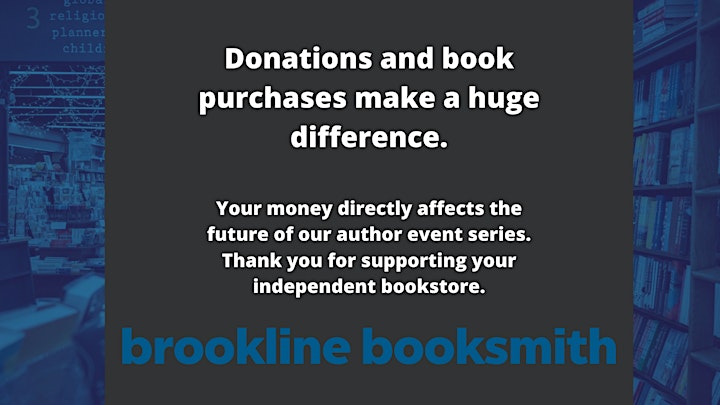 The Goldkorn Variations: A Trilorgy
"As his earlier fiction has demonstrated, Mr. Epstein is an exuberant writer, whose ambitions to address the large matters of history, and our moral and intellectual choices, is matched by a commodious talent—an ease in story-telling and a screwball feeling for comedy that counterpoints the high seriousness of his subjects and invests them, at once, with humanity and a sense of emergency….Reason and passion, death and life, the mundane and the momentous come crashing brightly together. And by the end, as Leib Goldkorn re-embraces music as a symbol of nature and harmony, the reader, too, is moved to celebrate the redemptive powers of the imagination—and to applaud Mr. Epstein's artistry and ambition."
Michiko Kakutani, The New York Times
The Goldkorn Variations collects in one definitive volume, with a new afterword by the author, three previously published novels (originally from E.P. Dutton and Norton presses) about an aged European flautist, his music and his loves, from childhood to age one hundred and four. The author, Leslie Epstein, introduced Leib Goldkorn in his novella The Steinway Quintet, which received the American Academy of Arts and Letters award for Distinguished Achievement in Literature, and which later became one of the three tales collected in the first of these volumes. That in turn spawned the craze known world-wide as Goldkorniana. The illustration by Pablo Picasso, "Scène Erotique II 02-08-1962," 1962, appearing on the cover of The Goldkorn Variations courtesy of the Estate of Pablo Picasso / Artists Rights Society (ARS), and the Pace Gallery, is one which the author, Leslie Epstein feels "particularly captures the undying energy of a man who never seems to grow old—in that sense, perhaps, Leib Goldkorn is like Picasso himself."
Leslie Epstein is an award-winning author who has written twelve books of fiction, including the celebrated novels San Remo Drive and King of the Jews, and his most recent, Hill of Beans: A Novel of War and Celluloid, a chronicle of the making of Casablanca, for which his father Philip and uncle Julius were the screenwriters. He teaches at Boston University, where he directed the Creative Writing Program for thirty-six years.
About Brookline Booksmith
We are one of New England's premier independent bookstores, family-owned and locally run since 1961. We offer an extensive selection of new, used, and bargain books; unique, beautiful gifts; award-winning events series; and specialty foods. Every day, we strive to foster community through the written word, represent a diverse range of voices and histories, and inspire conversations that enrich our lives. Find more at brooklinebooksmith.com!
EVENT ACCESSIBILITY
Barring technical difficulty, auto-transcription is enabled on all Brookline Booksmith Zoom Webinar events.