Description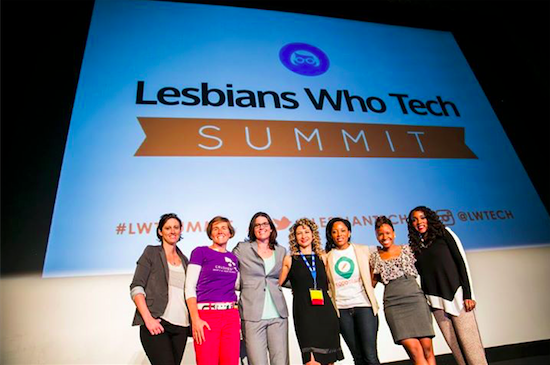 What is Speed Mentoring?
Speed Mentoring is a great way to find a mentor, be a mentor, learn something new, and build your network in tech. Speed mentoring == networking that doesn't suck! Learn from other professiols, share what you know, and make a few friends along the way. :)
We especially seek mentors and mentees in software development and design, QA, data science, product management, and more. Sign up here bit.ly/TECHJOBSTOURMENTORINGBHM by telling us what skills you have and/or which skills you'd like to learn.
These Speed Mentoring sessions will take place in conjunction with the Tech Jobs Tour Birmingham tour stop. (Learn more about Tech Jobs Tour, below.) Email angie@techjobstour.com with any questions.
About Tech Jobs Tour | Birmingham
At the heart of this tour is a commitment to diversity and economic opportunity for all Americans. This recent election, we saw our country more divided than ever. American talent resides all across the country in red states and blue states. It's time to invest in talent outside of Silicon Valley, NY and Boston. Right now America has over 500,000 open tech jobs - by 2020 this number will grow to over 1.4 million. The demand for qualified tech workers can only be met by reassessing how we qualify candidates as 60% of all new coders, engineers and data scientists are emerging from bootcamps and industry-current vocational schools. We must continue to innovate, empower small businesses and train our future workforce to meet the demands of the market. Our country's history and future has all been fueled by innovation. We've gone from cars to coal to code in less than 100 years.
That's why we are hitting the road to 50 cities - to help bridge the divide between employers and the American workforce by hosting career fairs, workshops, mentoring, networking and more. This is more than a jobs tour, it's a listening tour. We will be bringing tech's biggest innovators to cities across America, to learn, listen and work together to bring economic opportunity and prosperity to all Americans. Our goal is to push the industry towards a higher standard, a technology sector that is representative of the people who live in this country - women, people of color, LGBTQ people, people with disabilities, veterans and more. We believe, together, we can and will change the face of technology to help American workers get the jobs they deserve.
Watch our video to learn more here: bit.ly/TechJobsTourVideo
---
Tech is a community of queer women in tech (and allies) that started in San Francisco in December 2012. Since then, we've built a community of over 25,000 queer women in 37 cities, including 5 international cities.
To learn more go to Lesbianswhotech.org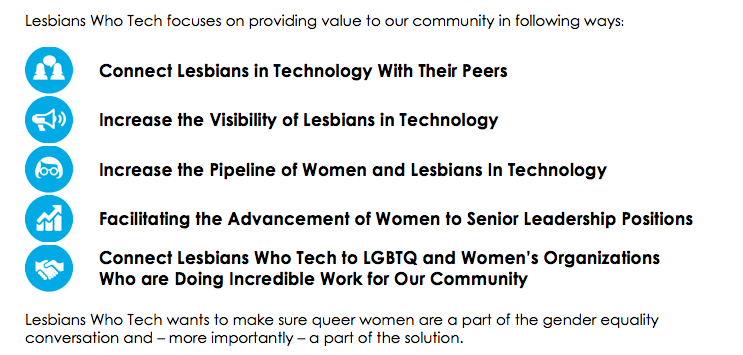 Lesbians Who Tech Press //
---
The 4th Annual Lesbians Who Tech + Allies New York Summit – September 7-9th, 2017 in New York City – will bring together over 2,000+ queer women and gender nonconforming people (+ allies) across all areas of technology. Topics include: Mobile, Cybersecurity, Big Data, Health Tech, Fin Tech, Software Engineering, Inclusion, Design, Space Tech & Science, and more.
Buy tickets early – this event will sell out. Join us for inspiring technology talks, live music, after-parties, technology demos, hula hoop contests, high fives, networking that does not suck, a tech career fair featuring top tech companies, and workshops that focus on your leadership and career growth.
Learn more: lesbianswhotech.org/newyork2017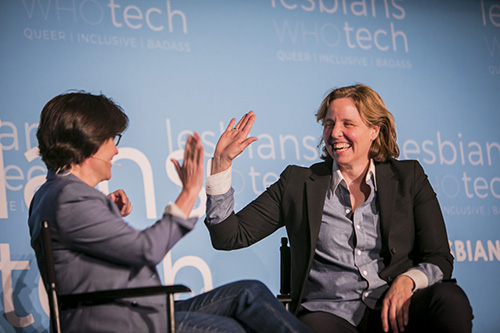 Kara Swisher and Megan Smith at Lesbians Who Tech Summit.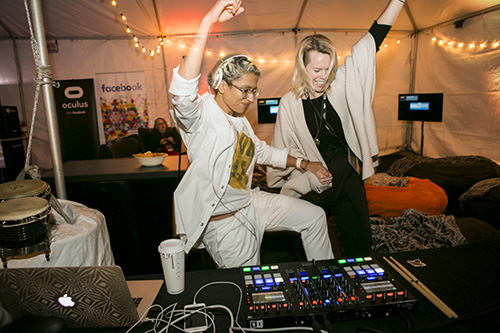 Madame Gandhi at Lesbians Who Tech Summit VIP Afterparty.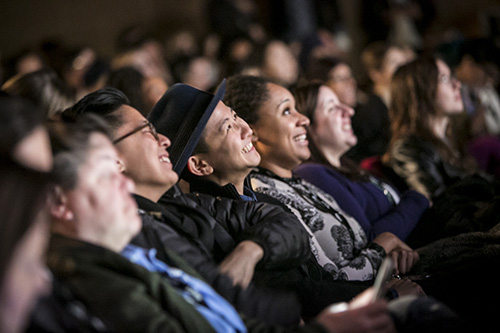 Opening night attendees at Lesbians Who Tech Summit.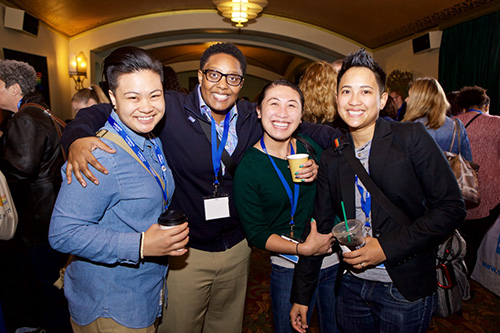 Networking at the Lesbians Who Tech Summit Tech Career Fair.