Lesbians Who Tech + Allies Silicon Valley || Queer Biergarten Happy Hour
Description
Hop on the train and come take over your local South Bay Biergarten with other members of the Lesbians Who Tech Silicon Valley chapter. Enjoy rustic but festive hangout with garden seating, hearty German grub, and many beers on tap. Join us to meet new people, get career advice, meet your mentor, and tell people about how well your company is supporting inclusion and talent development for queer women, LGBTQ and trans/nonbinary people.
Hosted by Dom Brassey (she/they), Growth at Mapbox (the location platform for developers). Dom Brassey is a community builder and user growth hustler in San Francisco, CA. Former VP Growth at Lesbians Who Tech + Allies; veteran prison educator, startup hustler, and gender nonconforming menswear model. Ready to build something new. Say hello.
LinkedIn: linkedin.com/in/dombrassey
Twitter: twitter.com/domlet
Join us at Locate, May 30-31st in SF: mapbox.com/locate
This event space is wheelchair accessible, with ADA compliant entrance and restrooms.
All ages welcome.
No ID required.
Read our Code of Conduct: Lesbianswhotech.org/code-of-conduct
1 minute walk from Redwood City Caltrain Station
---
Lesbians Who Tech + Allies is a global community of over 40,000 LGBTQ women (lesbian, gay, bisexual, trans and queer) and gender nonconforming people in tech. Lesbians Who Tech promotes the visibility, leadership, and education of our community.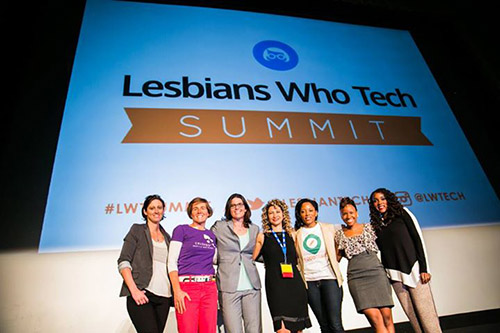 Lesbians Who Tech + Allies is a community of queer women in tech (and our allies) that started in San Francisco in December 2012. Since then, we've built a community of over 40,000 LGBTQ women and gender nonconforming people in 40+ cities, including 5 international cities.