Description
This event space is wheelchair accessible, with ADA compliant entrance and restrooms.
All ages welcome.
No ID required.
Read our Code of Conduct: Lesbianswhotech.org/code-of-conduct
In the spirit of LGBT History Month, from 7pm we will have 3 wonderful LGBTQ speakers. Pizza and drinks will also be provided.
Come join us for an evening at ThoughtWorks, who are generously hosting this special LWT event to celebrate LGBT History Month.
Schedule:
6pm-7pm: Drinks, food and mingling
7pm-8:30pm: 3 Great talks
8:30+ More mingling!
The 3 wonderful speakers:
- Melissa Andrada, COO @Learnerbly
"Coming out for Change — Lessons learnt from LGBTQ leaders past, present and future"
Bio: Melissa Andrada is the COO of Learnerbly, a VC-backed startup that help companies that include IDEO, GoCardless and ustwo accelerate the growth of their people. She co-founded the corporate learning arm of Wolff Olins, and co-created the original strategic vision for FutureLearn. She organises communities for social justice, and teaches classes at General Assembly on how to find your dream job and how to be a leader people want to work for.
- Dr J Harrison, Harbinger of Change @ThoughtWorks
"Getting along by not kicking shins; getting corporates to come along on the diversity journey"
Bio: I've been a Business Analyst and Project Manager for ~17 years, joining ThoughtWorks in 2016 working with clients to solve the impossible. I've been out as Non-Binary GenderQueer for over 10 years and whilst I use the pronouns "they" or "she" - I prefer to use gender non-specific names. Being out means being very visible outside of the mainstream and bringing an extension of diversity to people's attention.
There are not many Non-Binary GenderQueer's within the Tech ecosystem - we're especially rare over 45. Working in a company that is dedicated to inclusivity and intersectionality has enabled me to bring queer theory into the technology space.
- Catherine Ruggles, Engineering @Google
"The 40 Year Journey of a Lesbian in Tech"
Bio: For the past 40 years, Catherine Ruggles has been involved with the design, development, and management of software products and companies. Catherine began her career in the late 70's working on the real time operating system to dispatch NYC fire engines. In 1990, Catherine joined Peter Norton Computing, Inc. just prior to its acquisition by Symantec. During the next seven years, as Director of Internal Development, she was responsible for multiple teams that developed many award-winning software products such as Norton Utilities and Norton Antivirus. After leaving Symantec, Catherine lead engineering at two venture-backed startups before co-founding a software company dedicated to simplifying online management of social science research survey data in 2005. Recently Catherine joined Google's London office.
---
Lesbians Who Tech + Allies is a global community of over 30,000 LGBTQ women (lesbian, gay, bisexual, trans and queer) and gender nonconforming people in tech. Lesbians Who Tech promotes the visibility, leadership, and education of our community.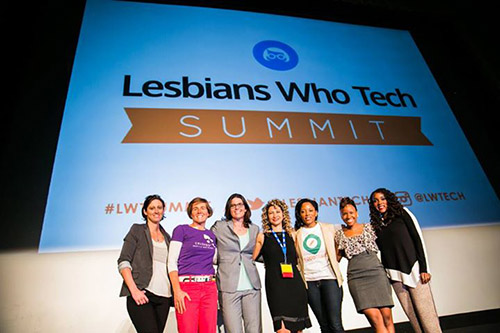 Lesbians Who Tech + Allies is a community of queer women in tech (and our allies) that started in San Francisco in December 2012. Since then, we've built a community of over 30,000 LGBTQ women and gender nonconforming people in 37 cities, including 5 international cities.