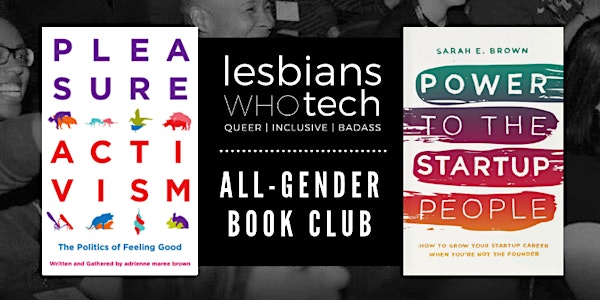 Lesbians Who Tech & Allies East Bay All-Gender Book Club (Sarah E. Brown +...
Location
2101 Webster St
#170
Octopus Literary Salon
Oakland, CA 94612
Description
About the All-Gender Book Club:
Follow the rules below. This club is an interactive safe space for Lesbians Who Tech community members to learn, unpack, question, and challenge ourselves and each other. We actively center the experiences of LGBTQ women, WOC, and trans/nonbinary people, and we welcome allies to see from this cultural vantage. We actively build the queer culture and community we want to see in the world. And we like to read.
About Lesbians Who Tech
Lesbians Who Tech + Allies is a global community of over 40,000 LGBTQ women (lesbian, gay, bisexual, trans and queer) and nonbinary or gender nonconforming people in tech. Lesbians Who Tech promotes the visibility, leadership, and education of our community.
Book Club Agenda
6:30 PM - Refreshments and networking
7:00 PM - Moderated book discussion
8:00 PM - Open networking
8:30 PM - Wrap and release
Hosted by Dom Brassey (she/they)
Dom Brassey (she/they) is a San Francisco Bay Area-based communications consultant, technologist, and game designer currently working on the Brand Marketing team at Mapbox, a live location data platform powering your favorite location-based app experiences and the next generation of multi-dimensional business intelligence data visualizations. Formerly: Lesbians Who Tech; Prison University Project, and 500 Startups (Batch 14). She facilitates Women in Management groups at Stanford University Graduate School of Business and runs an All-Gender Book Club in Oakland, San Francisco, and Palo Alto.
LinkedIn: linkedin.com/in/dombrassey
Twitter: twitter.com/domlet
Rules of the All-Gender Book Club
* We read two books at a time. Because diversity. You can read one or both.
* Cis Guys are welcome if they come as your guest. You are responsible for helping your guest understand the Lesbians Who Tech Code of Conduct. Cis guys seeking sponsors: ask around; do not show up unattached.
* Gender is awesome, and we educate each other about it. We use all the terms (ie, femme-of-center, andro, butch, cishet, AFAB, AMAB, enbie, gender-fluid, trans masculine, etc.) and we honor each other by learning and using correct pronouns.
How to suggest a book: twitter.com/domlet/status/958759883104403456
Twitter handles and hashtags:
@lesbiantech @domlet @Mapbox #LWTEastBay #AllGenderBookClub
Winter 2018 Books
Power to the Startup People: How To Grow Your Startup Career When You're Not The Founder
By Sarah E. Brown
While a ton of ink has been spilled about how to "crush it" as a founder or startup leader, there's very little in the way of guidance for how we employees can hack our own careers. This engaging book provides the tools and tips to navigate the world of tech startups and make better decisions about your career along the way. You'll find practical advice on how to ask for a promotion and raise, level up in your career, manage your boss, navigate startup failure (and success!), and more. Power to the startup people!
Buy the book: https://powertothestartuppeople.com
Get a free eBook: Sarah is offering free Kindle (ePub) and PDF copies of Power to the Startup People: How To Grow Your Startup Career When You're Not The Founder to everyone in Lesbians Who Tech book club! You can access your digital copies by emailing Sarah directly: Sarahbrownmarketing [at] gmail.com Please feel free to donate to Edie Windsor Coding Scholarship to pay it forward.
Pleasure Activism: The Politics of Feeling Good (Emergent Strategy)
By adrienne maree brown (Editor), Favianna Rodriguez (Contributor), Leah Lakshmi Piepzna-Samarasinha (Contributor)
How do we make social justice the most pleasurable human experience? Drawing on the black feminist tradition, including Audre Lourde's invitation to use the erotic as power and Toni Cade Bambara's exhortation that we make the revolution irresistible, the contributors to this volume take up the challenge to rethink the ground rules of activism. Writers including Cara Page of the Astraea Lesbian Foundation For Justice, Sonya Renee Taylor, founder of This Body Is Not an Apology, and author Alexis Pauline Gumbs cover a wide array of subjects—from sex work to climate change, from race and gender to sex and drugs—they create new narratives about how politics can feel good and how what feels good always has a complex politics of its own.
Buy the book: https://amzn.to/2EQH1FK
Sarah E. Brown is a B2B tech marketing leader, founder of Flatirons Tech, a diversity- and inclusion-focused tech meetup based in Boulder, Colorado, and mentor to early- stage startups at Techstars accelerator. She is currently Director of Content Marketing at BuildingConnected, the leading cloud based pre-construction bidding platform. You can find her hiking, sailing, and drinking robot-made vegan cappuccinos in San Francisco, the tech startup capital of the world.
Blog: http://sarahbrownmarketing.com
Twitter: http://twitter.com/SEBMarketing
adrienne maree brown is the co-editor of Octavia's Brood: Science Fiction from Social Justice Movements, is a social justice facilitator, healer, and doula living in Detroit.
Your host + organizer,
Dom Brassey (Mapbox)
This venue is accessible to wheelchair users. Caltrain Station (Palo ALto_ a few blocks away
All ages welcome
No ID required.

Close to 19th St. BART Station

Read our Code of Conduct: Lesbianswhotech.org/code-of-conduct
---
About Lesbians Who Tech + Allies
Lesbians Who Tech + Allies is the largest LGBTQ technology community in the world -- committed to visibility, intersectionality, and changing the face of technology. The 40,000 non-binary, LGBTQ women, queer women of color (and our allies) in tech who make up our community come from every background and live in over 40+ cities worldwide. Over 5,000 women and non-binary people in tech attend our San Francisco Summit, making us the largest professional LGBTQ event in the world and the largest event for women in tech in California. Our programmatic work includes a coding scholarship for non-binary and LGBTQ women called the Edie Windsor Coding Scholarship Fund, a mentoring program, Bring a Lesbian to Work Day, and a leadership program -- #LWTSQUAD -- focused on supporting our members as they move into senior leadership roles and onto corporate boards. We're not just creating communities; we're pushing the tech sector to be more inclusive and changing the face of the entire tech industry.
To learn more go to Lesbianswhotech.org