Description
Hasselblad and C R Kennedy are proud to present the newest member of the Hasselblad family- the H6D-400MS.
Les Walkling, Australia's leading expert in colour, Cultural Archiving and digitization will demonstrate the clear advantages of the multi-shot system and the quantum leap in image quality it delivers.
Further information about Les can be found here
Representatives from Profoto, Fiilex Lighting and Ilford will also be present to discuss lighting and output to print.
Doors open at 12.00pm with lunch served at 12.30pm. Formal presentations will kick off at 1.30pm.
Please invite your colleagues by sharing the link to this event, please ensure you register so we can cater for everyone and if you have any special dietary requirements please contact us beforehand
H6D-400c MS
The highest resolution and most colour accurate medium format images available.
Once again Hasselblad has pushed image quality to the limit with our latest Multi-Shot camera. The amazing H6D-400c MS, delivers the highest resolution, most colour accurate medium format images available on the market today.
Designed to meet the highest imaging requirements, its 400MP image output coupled with real RGB colour data for each pixel, captures every subtle nuance of the subject whether you are capturing fine cars, artworks, delicate fabrics or diamonds, put simply where only the best reproduction is acceptable – the multi-shot image offers true colour and an astonishing moiré free level of detail.
Product features
The H6D-400c MS inherits all the features and functionality of our standard single shot cameras.
100MP CMOS Sensor


At the cameras heart lies our 53.4 x 40mm 100MP CMOS sensor, with its wide ISO range, 16-bit colour data and 15 stops dynamic range, it is capable of delivering stunning images even when conditions are not ideal

USB 3.0 Type-C


USB 3.0 Type-C connector allows connection to any platform without the need for an adapter. It also delivers very fast transfer rates for tethered shooting, high speed data transfers and 30FPS live view.

3.0-inch touch rear display


The 3" high definition rear display boasts touch capability with user customisation options including assigning favourite functions to touch buttons. With a resolution of 920K dots, the image display performance delivers clear, colour accurate image reviews and a pin sharp Liveview experience.

Dual media card slots


The CFast 2.0 card slot offers very high-speed data transfer rates and is uniquely qualified for use with the high data bandwidths required for HD & UHD video and continuous stills shooting. The industry standard SD card slot ensures very good data transfer rates and wide-ranging compatibility with existing card readers.

HD & UHD video


When you simply need the highest quality, the H6D-400c MS can also capture UHD (4K) video in Hasselblad's proprietary RAW video format.

Modular system


The H6D-400c MS builds on our existing modular design offering flexibility and convenience for a range of photographic needs. Improved back removal process.

Wi-Fi, HDMI & Audio I/O


High speed Wi-Fi gives you the freedom to preview your shots wirelessly using Phocus Mobile on an iOS device.
Multi-shot
4-shot Multi-shot mode
When shooting in 4-shot Multi-shot mode, four captures are made. The 4 captures involve moving the sensor by one pixel at a time to achieve real colour data (GRGB). The cycle moves the sensor 1 pixel horizontally, then 1 pixel vertically, then 1 pixel horizontally and finally 1 pixel vertically, this cycle returns the sensor to its starting point (see 4-shot image above).This mode captures real RGB data for each pixel but the final output is a 100MP image size. The benefits are accurate colour data for each pixel, no moiré interference but keeps the resolution to 100MP. The 4 shot Multi-shot capture delivers a 16-bit Tiff file size of 579MB per frame (11600 x 8700 pixels).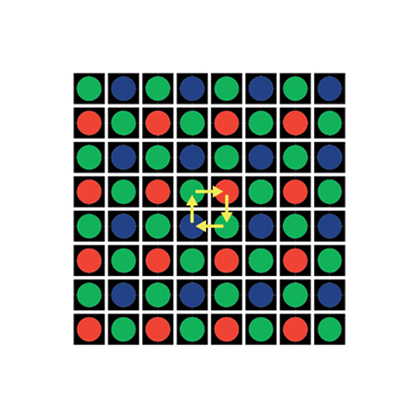 6-shot Multi-shot mode
In 400MP Multi-shot mode, 6 captures are made. The first 4 captures involve moving the sensor by one pixel at a time to achieve real colour data (GRGB- see 4 shot diagrams below), this cycle returns the sensor to its starting point. A further two exposures are made moving the sensor by ½ a pixel horizontally and then ½ a pixel vertically (see 6 shot diagram).These 6 captures are then combined to give the equivalent of a single 400MP capture, delivering a 16-bit Tiff file size of 2.4GB per frame (23200 x 17400 pixels), giving the ultimate in image resolution.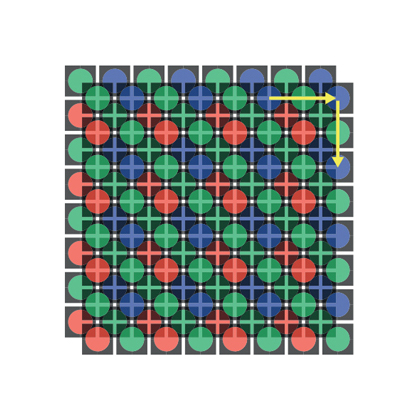 For more information please visit the Hasselblad website.