About this Event
Wednesday October 9, 2019
Les Filles de Illighadad
Headroom
8pm (doors)
$15 advance / $20 day of show
LES FILLES DE ILLIGHADAD
The female Tuareg group Les Filles de Illighadad from Niger features Fatou Seidi Ghali, a pioneer of guitar in West Africa. She lives in Illighadad, a small scrubland village in the desert country of Central Niger, located outside of the Tahoua region—and she is one of only two known Tuareg women guitarists in Niger.
The Tuareg society, a nomadic people living throughout the Sahara, are known for their tende—a style of music and the mortar drum played—and their traditional folk guitar playing. Tuareg guitar has gained notoriety locally in the Sahara and internationally due in part to Tinariwen, a band from Mali that won a Grammy Award for Best World Music Album for their 2011 release, Tassili.
While women have historically been musicians in Tuareg society—despite their limited social mobility outside of the home—guitars have primarily been played by men. For a woman to play a guitar, or even sing songs with a guitar, is really exciting for a lot of people. Ghali and Akrouni also perform tende, which refers to the drum, the style of playing, the rhythm, and the events in which it takes place, such as curing ceremonies, evening entertainment, camel festivals, dance traditions, and other special occasions. The tende drum is created out of a mortar and pestles with goat skin stretched over top. The two pestles are leaned against the side of the mortar, parallel to the ground, and a woman sits on each side of the pestles like chairs, stretching the goat skin over the mortar to create a drum. It is a communal form of music in which participants sing, recite poetry, dance, and clap along to the drum.
Les Filles de Illighadad perform songs in which they bridge the world of tende and guitar playing. In the fall of 2019, Les Filles de Illighadad will make their premier tour across the United States for a month. They will be joined by a third woman who plays tende, as well as Ahmoudou Madassane from Mdou Moctar's band who will act as their manager and translator. The three women have not spent much time outside of their village—some have been to Niamey, the capital of Niger, but otherwise they have not traveled far. They have released two sublime recordings from rural Niger on the Sahel Sounds label of dreamy Tuareg acoustic guitar music and the hypnotic polyphonic tende that inspires it.
https://www.youtube.com/watch?time_continue=2&v=HIAOG9nhrt8
https://www.youtube.com/watch?v=pgxCIs-SFpk
https://sahelsounds.com/artists/les-filles-de-illighadad/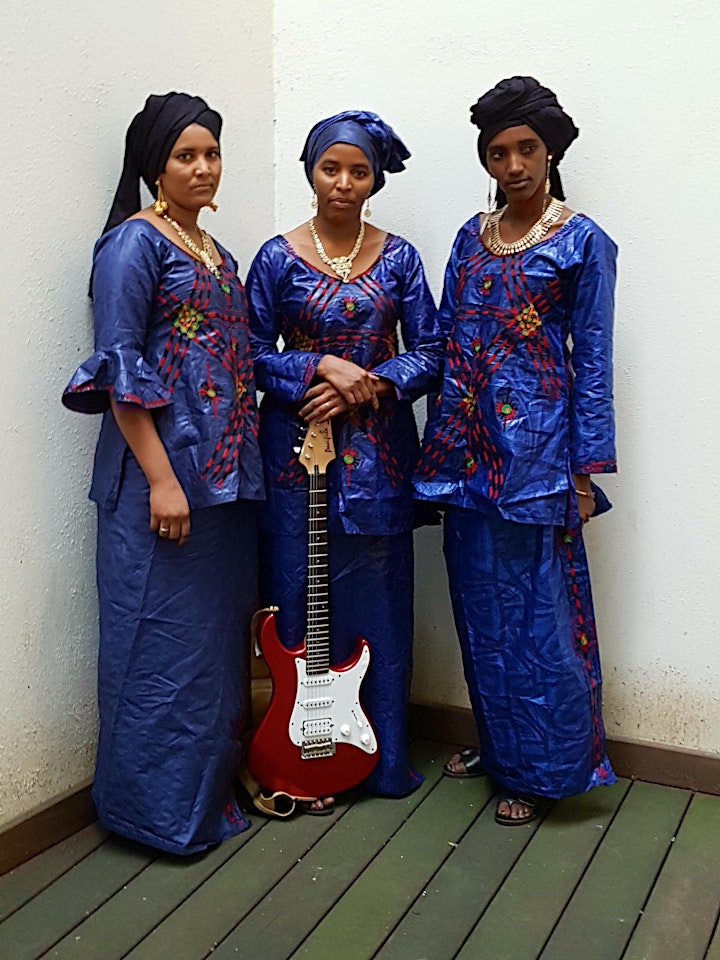 Les Filles de Illighadad come from a secluded commune in central Niger, far off in the scrubland deserts at the edge of the Sahara. The village is only accessible via a grueling drive through the open desert and there is little infrastructure, no electricity or running water. But what the nomadic zone lacks in material wealth it makes up for deep and strong identity and tradition. The surrounding countryside supports hundreds of pastoral families, living with and among their herds, as their families have done for centuries.
It takes its name from a drum, built from a goat skin stretched across a mortar and pestle. Like the environs, tende music is a testament to wealth in simplicity, with sparse compositions built from a few elements: vocals, handclaps, and percussion. Songs speak of the village, of love, and of praise for ancestors. It's a music form dominated by women. Collective and communal, tende is tradition for all the young girls of the nomad camps – played during celebrations and to pass the time during the late nights of the rainy season.
In the past years, certain genres of Tuareg music have become popular in the West. International acts of "desert blues" like Tinariwen, Bombino, and Mdou Moctar are synonymous with the name "Tuareg." But guitar music is a recent creation. In the 1970s young Tuareg men living in exile in Libya and Algeria discovered the guitar. Lacking any female vocalists to perform tende, they began to play the guitar to mimic this sound, replacing water drums with plastic jerrycans and substituting a guitar drone for the vocal call and response. The exiled eventually traveled home and brought the guitar music with them. In time, this new guitar sound came to eclipse the tende, especially in the urban centers. If tende is a music that for women, the Tuareg guitar was its gendered counterpart.
Fatou Seidi Ghali, lead vocalist and performer of Les Filles de Illighadad is one of the only Tuareg female guitarists in Niger. Sneaking away with her older brother's guitar, she taught herself to play. While Fatou's role as the first female Tuareg guitarist is groundbreaking, it is just as interesting for her musical direction. In a place where gender norms have created two divergent musics, Fatou and Les Filles de Illighadad are reasserting the role of tende in Tuareg guitar. In lieu of the djembe or the drum kit, Les Filles de Illighadad incorporate the traditional drum and the pounding calabash, half buried in water. The forgotten inspiration of Tuareg guitar, they are reclaiming its importance in the genre and reclaiming the music of tende.
Performers
Date and Time
Location
Refund Policy