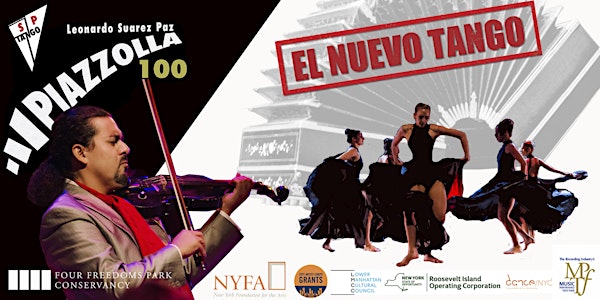 Leonardo Suarez Paz's PIAZZOLLA 100: El Nuevo Tango
Leonardo Suarez Paz leads a Tango-Jazz fusion orchestra with soloists & Nuevo Tango Ballet to the forefront of the genre
When and where
Location
Franklin D. Roosevelt Four Freedoms State Park 1 FDR Four Freedoms Park New York, NY 10044
About this event
Presented as part of Leonardo Suarez Paz's PIAZZOLLA 100, this is a multidisciplinary experience featuring award-winning artists Leonardo & Olga Suarez Paz, an 11 piece tango-jazz fusion orchestra, and Nuevo Tango Ballet. A cross-cultural production, this show connects New York & Buenos Aires and celebrates the centennial of Leonardo's mentor, Astor Piazzolla, an Argentine-born and New York raised composer. Leonardo redefines tango as evolving, daring, artistically complex, and emotionally moving genre - deeply rooted in tradition but with one foot in the next century.
A "magnificent performance" "Powerful and sensual" (All About Jazz, UK)
Leonardo Suarez Paz's PIAZZOLLA 100: El Nuevo Tango is presented by the FDR 4 Freedoms Park Conservancy with the support of Roosevelt Island Operating Corporation and made possible in part with public funds from Restart NY, supported by the New York State Council on the Arts, support from the Governor and the New York State Legislature, the Lower Manhattan Cultural Council, City Artists Corps Grant, Music Performance Trust Fund, Dance/NYC and contributions from individual donors, through our fiscal sponsor, New York Foundation for the Arts (NYFA).
ARTISTS:
Leonardo Suarez Paz (soloist - violin, voice, dance), Patience Higgins (soloist - tenor saxophone), Cuartetango string quartet - Sami Merdinian (violin 1), Francisco Salazar (violin 2), Danny Miller (cello), Ron Lawrence (viola), Rodolfo Zanetti (bandoneon), Pablo Cafici (keyboards), Ahmed Alom (piano), Konrad Adderley (contrabass), Matt Vander Ende (drums) and members of Nuevo Tango Ballet - Laura Roatta, Olga Suarez Paz & Leonardo Suarez Paz (choreography) & dancers - Olga Suarez Paz, Francesca Antonacci, Mathilde Guerrero, Brianna Rivera, Carolina Cabrera Volpe with choreographies by Ace award-winner Laura Roatta, Olga Suarez Paz & Leonardo Suarez Paz.
IMPORTANT VENUE & TICKETING INFORMATION:
The event takes place in a performance tent and is scheduled to take place run rain or shine.
Park is accesible by F train, NYC Ferry and Tramway. Street parking is available outside the park. Please check the park's location for travel times and distances from public transportation and parking.
Free. Limited seating. Proof of vaccination & masks are required to attend.
Unused reservations will be release to public on a first come first serve basis.