Description
Classic First Fridays featuring DJ Master C
This First Friday, August 4th, we celebrate the Summer with our first LEO Birthday Celebration. Come out and have a great time with old and new friends as we support Loudoun NAACP fundraiser. For Leo's we have developed a Special FREE package for you and your friends to celebrate your Birthday.
Enjoy a night of Mingling and Dancing at Classic First Fridays. For a night of great Hand-Dancing, Steppin', Line Dancing, R&B, Motown and Old School. Delicious Rotisserie Chicken and Fried Fish will be on the menu as well as a Cash Bar. Dinners served starting a 9PM.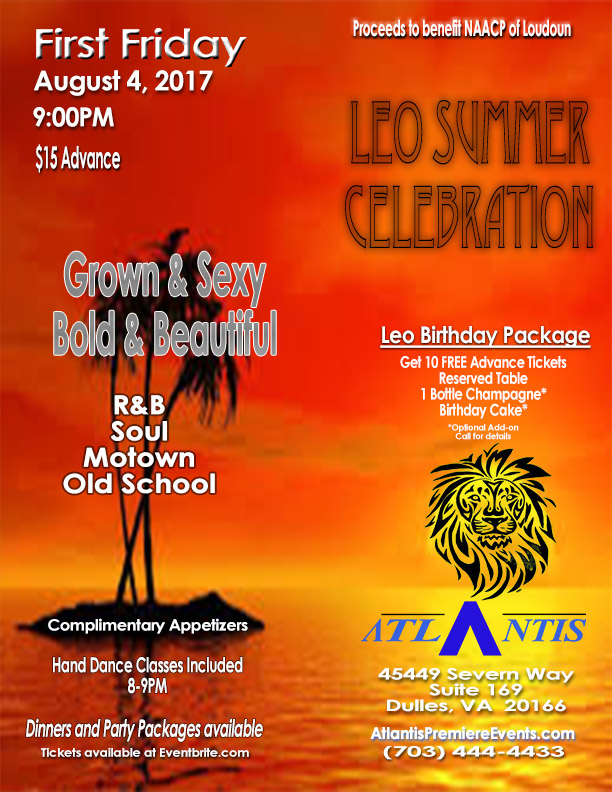 Reservations are coming in fast so RSVP today.
Special Guest DJ Master C - SPYCE (WKYS, WHUR) will be playing your favorite tunes from the 70's, 80's & 90's & today. There'll be Soul Train Lines, maybe even some stacks and Bell Bottoms. Come and party with the Grown Folk.
And don't forget our Hand Dance, Step & Bop lessons from 8-9:30PM
Please Note: There will be a Cash Bar for this Fundraiser
Birthday Party Packages available
Call for info
www.AtlantisPremiereEvents.com
(703) 444-4433