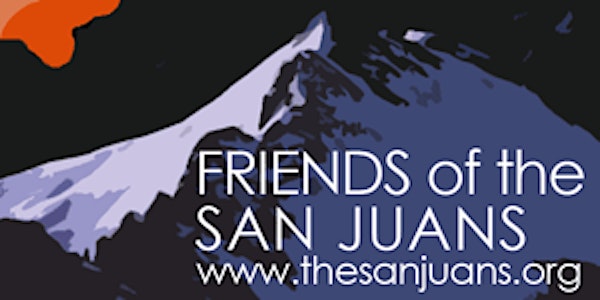 Leo Lloyd Memorial Avalanche Rescue Workshop
Please Note: Participants enrolling in this field session are REQUIRED to attend a classroom session on Thursday, February 2nd from 6pm-8pm
When and where
Location
Andrews Lake Winter Lot/Molas Pass (just North of Andrews Lake Turn)Andrews Lake Road, Durango, CO, 81301 Andrews Lake Road Durango, CO 81301
About this event
AVALANCHE COMPANION RESCUE: A TEAM RESPONSIBILITY
FOSJ is excited to announce this special rescue workshop in memory of Leo Lloyd. Leo was the technical rescue advisor for the San Juan County and La Plata County Search and Rescue Teams, an instructor for the Silverton Avalanche School, and an EMS Captain/Firefighter with Durango Fire & Rescue. As the original mastermind for this course, Friends of the San Juans would like to honor Leo's passion and commitment to serving the community.
The Leo Lloyd Memorial Rescue Workshop is an 8 hour clinic for backcountry users who have taken a AAA Avalanche Rescue Course and/or a AAA Rec Level 1. Participants will have the opportunity to refresh their rescue skillset as well as learn and practice basic life saving medical care. Approximately two hours will be dedicated to refreshing industry standard use of beacon, probes, and shovels as well as how to coordinate a single and multiple burial rescue. For the rest of the workshop, participants will be challenged with five realistic avalanche scenarios. For each scenario participants will be expected to perform a rescue, provide basic life saving medical care, and develop and implement an evacuation plan. Join us to dust off the cobwebs and practice these important skills!
*Note: this is not a AAA certified rescue course and will NOT qualify participants for eligibility in AAA Level 2 courses.*
Equipment Needed For Field Session:
+ Avalanche rescue gear: transceiver (modern three antenna avalanche transceiver required), probe, and shovel
+ Each participant will need to have the ability to move over snow a short distance. Backcountry skis/split-boards (with skins) or snowshoes are required
+ Have in your pack what you would consider taking on a day tour in the mountains
All participants must complete an electronic FOSJ Liability Waiver included in this online registration.
Course will take place at the Andrews Lake winter parking lot just south of Molas Pass on US 550. Please arrive early and be geared up and ready to go by 8:30am. Course will conclude at 4:00pm. Mark your calendars, get registered, and we look forward to seeing you!
PLEASE NOTE: Participants enrolling in this field session are REQUIRED to attend a classroom session on the evening of Thursday, February 2nd from 6pm-8pm at Pine Needle Mountaineering in Durango, CO.