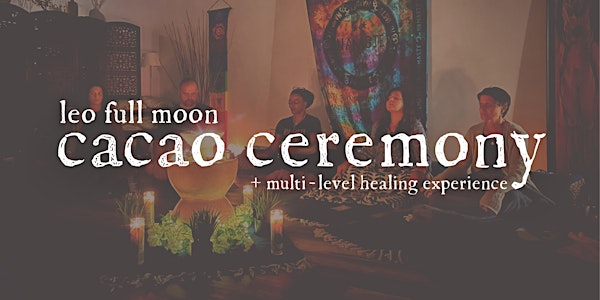 Leo Full Moon Cacao Ceremony + Multi-Level Healing Experience
Join our community of self-healers in opening the heart + healing the mind under the full moon energy as we work with sacred plant medicine.
When and where
Location
27 Oak St 27 Oak Street Roswell, GA 30075
Refund Policy
Contact the organizer to request a refund.
Eventbrite's fee is nonrefundable.
About this event
***Please note that the use of cacao and it's history is very sacred and the indigenous cultures and farmers are honored and respected within this space.***
Yes, chocolate is made from cacao beans but our cacao is NOT chocolate. This ceremonial grade cacao is made from 100% heirloom Arriba Nacional beans, widely praised as the rarest and most complex-tasting in the world. Raised in the the mineral-rich soil along the Bulubulu River in Guayas, Ecuador, our ceremonial-grade cacao contains extremely high amounts of theobromine & other heart opening phytochemicals that are not found in regular chocolate.
Along with intentions, meditation, breathwork, sound healing, shamanic drumming, Siwa Murti Healing, Reiki and body work, this cacao ceremony is perfect for anyone looking to heal trauma, release grief/trapped emotions, open the heart and find your spiritual tribe! Be taken on a magical journey through custom designed soundscapes + visualization exercises while working with the power of sacred plant medicines as you release what no longer serves you into the sacred flame.
Bring a yoga mat, blanket, water bottle, coffee mug or your favorite cup, journal, writing utensils, and any spiritual tools that you need or would like to place on the altar. If you don't have a yoga mat, mug/cup, or writing utensil, we will supply that for you!
You'll notice there are 3 different ticket options and all of them offer you the same experience with the some slight variations:
THE EXPERIENCE
This admission reserves your space within our circle, a full dose of ceremonial-grade cacao infused with 100% organic maple syrup + reiki-infused alkaline spring water prepared by facilitators, a complete guided meditation, sound journey and a series of body work + breathwork exercises.
THE ADVANCED EXPERIENCE
This admission includes everything in the basic ticket price PLUS allows you the opportunity to take your plant medicine experience even deeper to deliver even more expansion to your heart with an added boost of increased psychic abilities, deeper relaxation + strengthened spiritual insight. This experience also includes private 1:1 reiki healing treatments during your medicine journey.(If you are unsure of this option or have more questions, please reach out to us directly before booking.)
THE COMPLETE EXPERIENCE
This admission includes everything in the basic ticket price PLUS allows you the opportunity to take your plant medicine experience to the most refined level as you journey deep into the subconscious, move stagnant energies out of the system, release negative ego + attachments while moving your heart energy into spirit giving you the most holistic experience possible in this space. Complete Experiencers will receive reiki healing PLUS customized Siwa Murti Healing for specific areas of discomfort and blockages. (If you are unsure of this option or have more questions, please reach out to us directly before booking.)