Scrutinizing the Signs of the Times - Reflections on the Church Today
About this Event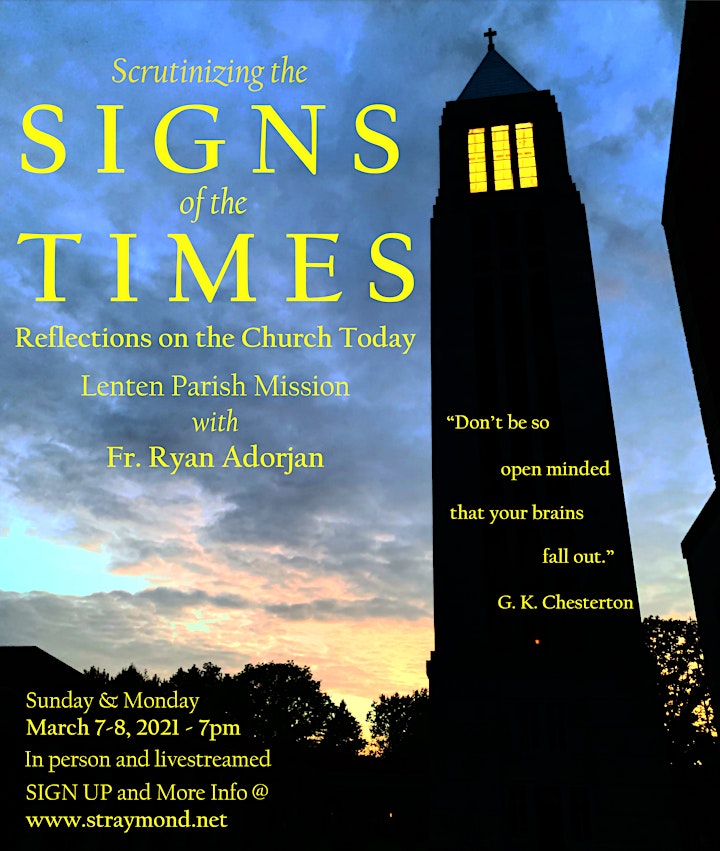 Guidelines have been created to keep everyone safe and healthy and to allow as many of our community to attend within the requirements of the State of Illinois.
Because of social distancing requirements, church capacity will be significantly reduced and seating will be in every other pew with social distancing between those attending.
Please enter through Door 22.
All other entrances will be locked.
Pews labeled with 5 maximum will have a maximum of 5 people, all who live in the SAME HOUSEHOLD, and pews labeled '2' has a max of 2 who live in the SAME HOUSEHOLD. Other family members who live in a different household will have to sit in a different pew.
The following guidelines have been put in place for the safety of all attending:
Please wait in your car until you see someone unlock the doors to enter.
Please maintain the recommended 6 feet while in line awaiting ushering to a pew.
Hand Sanitizer will be available at entrances, please make use of it when entering.
All attendees will have their temperature taken before entering church.
If you are sick or vulnerable to infection; or care for someone who is vulnerable we ask that you please do not attend.
Everyone attending MUST wear protective face masks .
Please use the restroom at home before coming to Mass. Restrooms located in the Narthex will only be available for emergencies.