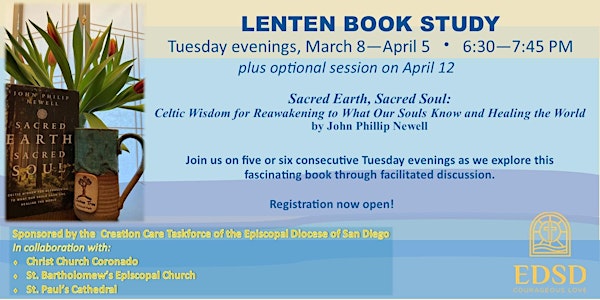 Multiple dates
Lenten Book Study: Sacred Earth, Sacred Soul
Lenten Book Study sponsored by the Creation Care Task Force of the Episcopal Diocese of San Diego featuring "Sacred Earth Sacred Soul"
Date and time
March 8, 2022 · 6:30pm - April 12, 2022 · 7:45pm PST
About this event
Join us on 5 (plus an optional 6th) consecutive Tuesday evenings--March 8, March 15, March 22, March 29, and April 5, plus April 12 (optional)--from 6:30 - 7:45 PM.
Please note: It is only necessary to register for one of the dates to be included on the list for all sessions. No need to register for more than one session to ensure you will receive email notifications with the Zoom link before each session.
In this book, Sacred Earth, Sacred Soul: Celtic Wisdom for Reawakening to What Our Souls Know and Healing the World, John Phillip Newell shares the long, hidden tradition of Celtic Christianity, explaining how this earth-based spirituality can help us rediscover the natural rhythms of life and deepen our spiritual connection with God, with each other, and with the earth. He introduces some of Celtic Christianity's leading practitioners, both saints and pioneers of faith, whose timeless wisdom is more necessary than ever.
Newell is an internationally acclaimed spiritual teacher, speaker, and author of several books, including Listening for the Heartbeat of God, and A New Harmony. The former Warden of Iona Abbey in the Western Isles of Scotland, he is the founder of Earth and Soul (a Celtic Initiative of Study, Spiritual Practice, and Compassionate Action) and teaches regularly in the States.
Bishop Michael Curry, Presiding Bishop of the Episcopal Church, and author of Love is the Way: "This wonderful book draws deeply from the well of Celtic wisdom across the centuries to help us to recognize the sacred both around us and in us, calling us to wake up and see that there's no going back to small, limited notions of God and the sacred."
This book study is a collaboration of the EDSD Creation Care Task Force and interested churches, including Christ Church Coronado, St. Bart's, and the Cathedral.
Sources for Sacred Earth, Sacred Soul:
The following website provides links to booksellers:
https://www.earthandsoul.org/sacred-earth-sacred-soul
A recent check showed that several local Barnes and Noble stores do report having Sacred Earth, Sacred Soul in stock in hardcover (note: the paperback edition will not come out until the fall). It is also possible to order online and either pick it up at the location of your choice or have it delivered.
Ordinarily we would encourage you to consider your favorite independent bookseller. However, there is currently a paucity of San Diego area bookstores showing Sacred Earth, Sacred Soul in stock (some may be able to special order). Here's a link to a listing of some of the independent bookstores in the San Diego area with descriptions:
https://www.pacificsandiego.com/local-entertainment/arts-culture/list/your-guide-to-independent-bookstores-in-san-diego-county
As an e-book:
For those who favor e-books, Sacred Earth, Sacred Soul is readily available in Kindle and Nook editions. (Apparently, one does not need to own a Kindle to read the Kindle edition; it's possible to download the Kindle app and read on a smartphone or computer.)
As an audiobook:
And for audiobook listeners, an alternative to Audible: Libro.fm enables customers to purchase audiobooks through an independent bookstore.
Sacred Earth, Sacred Soul is also available for "free" with a trial Audible subscription (but be sure to check the terms).