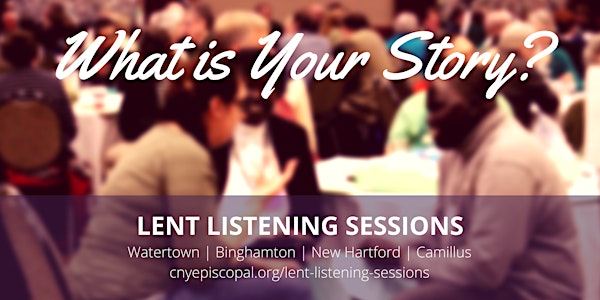 Lent Listening Sessions: What Is Your Story?
By The Episcopal Diocese of Central New York
Description
Lent Listening Sessions: What is Your Story?
Listening to our neighbors; building beloved community
[CANCELED] Trinity Church, Watertown
Sunday, March 4th
Trinity Memorial Church, Binghamton
Sunday, March 11th, 3:30-6:00 p.m., 44 Main Street, Binghamton 13905
St. Stephen's Church, New Hartford
Sunday, March 18th, 3:30-6:00 p.m., 25 Oxford Road, New Hartford 13413

[CANCELED] St. Luke's Church, Camillus
Thursday, March 22nd, 6:00-8:30 p.m.

The Holy Spirit is at work in Central New York, calling us to build loving, liberating and life-giving relationships with God and one another. Our world, dominated by argument and division, needs the Church to model and offer God's beloved community to all people.
When we tell our true (and sometimes difficult) stories, and when we listen deeply to each other's stories, we share God's gift of relationship. We rediscover the unique ways that the Holy Spirit is at work in our midst. We build the skills that help us more freely share the love of Jesus with our neighbors.
This Lent, in four listening sessions across the Diocese, we will come together to hear one another's stories, with a focus on healing the prejudice and discrimination that have kept us apart. In small groups led by trained facilitators, our prayerful listening will be a new step in our continuing Spirit-led journey to become God's beloved community in Central New York.
About the organizer
Questions about diocesan events may be directed to the diocesan office at office@cnyepiscopal.org or (315) 474-6596.