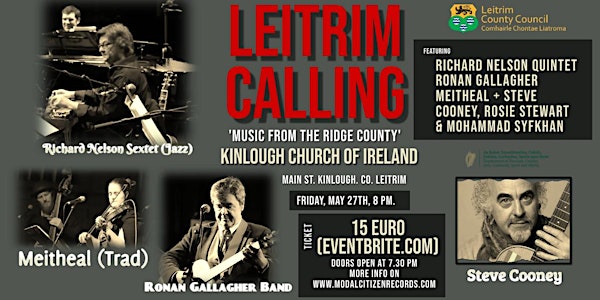 Leitrim Calling: Music from the Ridge County
A concert by three diverse Leitrim-based/connected artists in a unique and intimate venue with special guest Steve Cooney.
By Kinlough Church of Ireland Select Vestry Group
Date and time
Fri, 27 May 2022 20:00 - 21:30 IST
Location
Kinlough Church of Ireland Main Street Kinlough Ireland
Refund Policy
Contact the organiser to request a refund.
About this event
The Richard Nelson Quintet (Jazz)
If you have heard any pedal steel guitar swells on any Irish country tracks over the past 30 years, chances are it was Richard Nelson's skilfully crafted lines that permeated the generic sound of that genre. Richard is the guy that everyone has heard but no one has heard of (outside of the top-tier level of Irish musicians). His credits include Van Morrison and Paul Brady, but his discography is even more impressive. When asked how many albums he has played on, he smirked 'I gave up counting after it got past 1,200.' A typical answer from a modest, yet quietly confident Ulsterman with an exceptionally droll sense of humour. It is on this album, his 3rd foray into jazz, that Nelson's jazz credentials are codified. The dexterity with which he tackles 'Giant Steps' is truly remarkable. This tune with its frantic tempo and alternating modulations is not to be attempted (if you have any respect for Coltrane) until one has truly spent a considerable amount of time studying jazz, but Nelson's version displays his impeccable timing, tuning and acuity. Kenny Burrell's 'Midnight Blue' sounds as smooth and slick as Rudy Van Gelder's original recording. The title track, Jobim's classic Chega De Saudade (No More Blues), highlights the musicians' seamless transition to a classic bossa nova groove. Charlie Parker's 'Donna Lee' is given its due respect and Bob Berg's 'Friday Night at the Cadillac Club' bounces along with a consistency that Whiplash's Fletcher would find to be "…quite my tempo."
Featuring an all-star cast of top Irish and international session musicians from Scotland to the US, and recorded, mixed, and mastered by the legendary Philip 'The Beg' Begley (Riverdance, Planxty, Christy Moore), Nelson has delivered a stunning sounding album. Crisp yet gritty and the selection of tunes demonstrates just how far he has brought a 'country' instrument into the jazz mainstream. Pedal Steel Guitar is here to stay as a jazz instrument and on this island, it is due to the Herculean efforts of Richard Nelson's patience, practice, persistence, precision, and vision.
Ronan Gallagher (Singer Songwriter)
Although roots based, Ronan describes himself as 'genre fluid'. As he says: "I write them as they come and have no part in how the songs come out." A firm believer in the power of lyrics to move and stir us, Gallagher (who only started his music journey in his mid-fifties) is a prolific songwriter whose songs tell stories of everyday life, love, heartbreak, and lost souls, and he sings them with passion, integrity, and conviction. A chance meeting with producer Marc Geagan has resulted in two albums, his debut 'Always Broke Never Broken' released in 2019 to much acclaim and his new album 'Time Waits For No One' which was released on the 16th of May 2021.
Meitheal (Trad)
From the Irish word for 'working collaboratively.' Meitheal is Modal Citizen Records' in-house trad project band. The band can range from a duo to an entire 12-piece depending on the circumstances. It features some of the finest performers of traditional music from South Donegal, North Leitrim, and West Fermanagh. Their first album 'Songs of Erne Volume 1: Traditional Music from South Donegal and West Fermanagh' was released in 2017 and features guest performances from Steve Cooney and Junior Davey. Their follow-up album 'Songs of Erne Volume 2: Border Music' has been recorded and is due for release in 2022. Tonight's line-up includes Seanan Brennan (multi-instrumentalist with Kila), Fiona Fitzpatrick (Seamus O'Rourke), Ulster Fleadh-winner Farrah Bogle on fiddle and vocals and Marc Geagan (Ronan Gallagher Band) on guitar and dobro. They will be joined by their friend and special guest, Kinlough's own Shane Rooney on piano accordion.