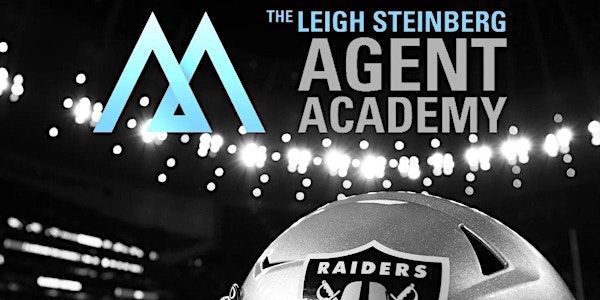 Leigh Steinberg Sports Agent Academy Las Vegas
The Leigh Steinberg Sports Agent Academy in Las Vegas on July 9-11 will be focused on creating the top sports agents of tomorrow!
By Powerteam International
Date and time
July 9 · 6pm - July 11 · 5pm PDT
Location
Ahern Hotel 300 West Sahara Avenue Las Vegas, NV 89102
Refund Policy
Contact the organizer to request a refund.
Eventbrite's fee is nonrefundable.
About this event
1 day 23 hours

Mobile eTicket
Agent Leigh Steinberg has represented hundreds of professional athletes throughout his storied career, and his client list includes Kansas City Chiefs Quarterback Patrick Mahomes among his more than 50 current NFL clients. For this year's Agent Academy, Steinberg is excited to announce that he has teamed up with Bill Walsh from Powerteam International to bring his program back to Las Vegas from July 9-11, 2023.
Steinberg and his team have added invaluable new content to the Academy, including public speaking skills, negotiation mastery, as well as how to empower your presence and stand out amongst the competition. Attendees will hear lectures from both Steinberg and Walsh, one of the top business coaches in the country, and will also take part in realistic exercises involving recruiting, negotiation, damage control, and how to start a charitable organization.
"Fundamentally, the concept is to try to train a new generation of agents and sports professionals that have specific skills," stated Steinberg. "People go to law school, business school or sports management school and they learn the principles of each of those areas, but no one really concentrates on the actual practical skills that someone would need to be successful. We teach them how to negotiate, how to recruit, and how to build an agency. We're honest about the fact that there are 1,000 certified football agents, and the economics should be challenging. They get a realistic picture of it."
In addition to his Agent Academy, Steinberg plans to continue his sports career conferences which are scheduled for 2023. He is excited to greet everyone in person this year in Las Vegas and do his part to create the next generation of honest and skilled super agents.
The Agent Academy Schedule
Sunday, July 9, 2023
6:00pm to 6:30pm – Registration
6:30pm to 6:40pm – Welcome and Introduction — Leigh Steinberg & Bill Walsh
6:40pm to 8:30pm – Overview of the Agent Industry and Agent Skill Set — Leigh Steinberg, Founder & Chairman, Steinberg Sports
8:30pm to 9:30pm – Overview of How the industry has changed over the last decade
Monday, July 10, 2023
9:00am to 9:30am – Breakfast
9:30am to 10:00am – Overview of Recruiting — Leigh Steinberg
10:00am to 10:30am – Recruiting from an Athlete and Family's Perspective — Special VIP Guests
10:30am to 1:00pm – Recruiting Exercises with the Jones family
1:00pm to 2:00pm – Lunch
2:00pm to 3:00pm – 12 Core Tenets of Negotiation and the Importance of Salary Caps — Leigh Steinberg
3:00pm to 5:00pm – Mock Negotiation Exercise
5:00pm to 6:00pm – Dinner
6:00pm to 7:00pm – Overview of Branding, Marketing and Public Speaking — Bill Walsh Powerteam International
7:00pm to 9:00pm – Branding, Marketing, and Endorsement Exercise
PLUS AS A SPECIAL BONUS A VIP TOUR OF THE RAIDERS STADIUM
Tuesday, July 11, 2023
9:00am to 9:30am – Breakfast
9:30am to 10:00am – Overview of Media, PR and Crisis Control — Special Guest Speakers, & Leigh Steinberg
10:00am to 11:00am – Crisis Control Exercise
11:00am to 11:30am – Overview of the Importance of Charity and Community — Leigh Steinberg plus special guest on Social Impact
11:30am to 12:30pm – Formation of a Charitable Foundation Exercise
12:30pm to 1:00pm – Book Signing and Closing
Who should attend the Agent Academy?
If you are a student and you aspire to have a career as a sports agent someday, this academy is for you!
If you are already in the professional world doing something outside of the sports industry and wish to make the transition, this academy is for you!
If you studied sports management or are a current sports business professional and want to accelerate your career, this conference is for you!
Anyone that is 100% serious about learning from one of the greatest minds of our time about the art of negotiation in life & business.
Reserve your tickets today!
About the organizer
Powerteam International is one of the leading Success Education Companies in the world! Powerteam provides Corporate & Entrepreneurial training programs, Venture Funding and Business Coaching in cities around the world. Powerteam International has the resources necessary to help your company become even more successful! For all major industries, from start-up companies to billion-dollar firms, the professionals at PTI have insight and solutions to create new market opportunities and increased optimization! This includes having a personal success coach or professional coaching team that will offer priceless insight and advice.
Topics include: Advertising, Leadership Training, Website Development, Website Traffic Generation, Business Financing, International Expansion, and Personal Development. We offer some of the best high-level consulting and training for business leaders and their organizations. Our clients range from start-ups to mega-successful corporations.