LEIGH RUBIN: The wild and twisted world of Rubes

Wednesday, June 7, 2017 from 6:30 PM to 7:45 PM (PDT)
Event Details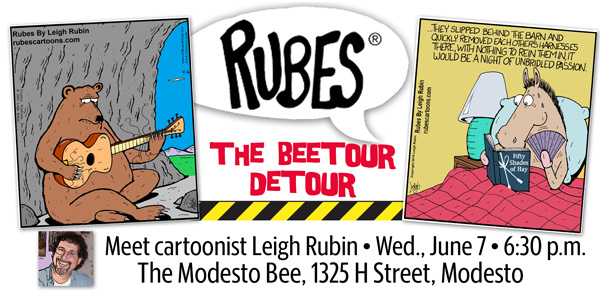 "A Twisted Mind is a Terrible Thing to Waste"
Come spend an evening on a Pop Culture comic adventure inside the ridiculously twisted mind of Leigh Rubin, cartoonist and sit down comic.


We live in a pop culture world, a world filled with our favorite films, music, monsters and myths. It's a world of rock stars and scientists who rocked the world. It's a world of founding fathers, fiction, fast food, fairy tales and fantasy.

 A world of sit-coms, superheroes, sleuths, sci-fi, surrealists, and superspies. Our pop culture world of is a world inhabited by a advertising icons, aliens, genies, zombies and vampires. There are storybook characters, good guys, bad guys, wizards, witches, blockheads, blockbusters and best sellers.

 Leigh's Twisted Pop Culture presentation is an enlightening adventure which demonstrates the influence and importance of how our collective pop culture brings us all together into a hilarious shared experience. 

About Leigh Rubin:

Leigh began his cartooning career in 1978 by establishing his own greeting card company, Rubes Publications. His first cartoon collection, the popular Notable Quotes musical cartoons, was published in 1981.



2017 marks the 33nd anniversary of Leigh's daily cartoon, Rubes®, which is now, distributed by Creators Syndicate to more than 400 newspapers and media outlets worldwide.

When & Where

The Modesto Bee
1325 H Street
Modesto, CA 95354


Wednesday, June 7, 2017 from 6:30 PM to 7:45 PM (PDT)
Add to my calendar
Organizer
Vision: The Modesto Bee is our area's premier source of news and information, and the leading provider of advertising options in the communities we serve. We produce top-quality, intensely local digital and print products 365 days per year — and have for more than a century.
Legacy of Service in our Community: The Modesto Bee, under various names and ownership, has been published daily since 1884, when the paper was known as the Daily Evening News. In 1924 The Daily News merged with the Modesto News-Herald and became the Modesto News-Herald. The newspaper was purchased by the McClatchy family in 1924, becoming the family's third newspaper after The Sacramento Bee and The Fresno Bee, and officially became The Modesto Bee and News-Herald in 1933. The name was shortened to The Modesto Bee in 1975.
Circulation Area:  The Modesto Bee is delivered to homes and business in six counties. They are Stanislaus County (the primary market), southern San Joaquin County, Merced County, Tuolumne County, Calaveras County and parts of Mariposa County.