Location
The Modesto Bee
1325 H Street
Modesto, CA 95354
Description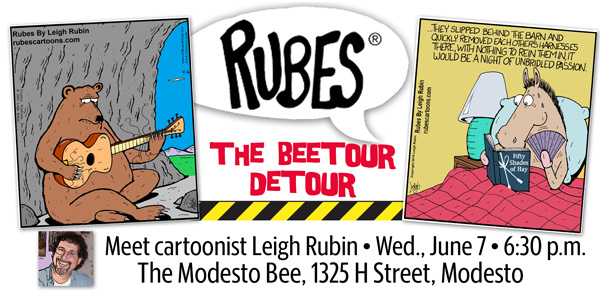 "A Twisted Mind is a Terrible Thing to Waste"

Come spend an evening on a Pop Culture comic adventure inside the ridiculously twisted mind of Leigh Rubin, cartoonist and sit down comic.

We live in a pop culture world, a world filled with our favorite films, music, monsters and myths. It's a world of rock stars and scientists who rocked the world. It's a world of founding fathers, fiction, fast food, fairy tales and fantasy.
A world of sit-coms, superheroes, sleuths, sci-fi, surrealists, and superspies. Our pop culture world of is a world inhabited by a advertising icons, aliens, genies, zombies and vampires. There are storybook characters, good guys, bad guys, wizards, witches, blockheads, blockbusters and best sellers.
Leigh's Twisted Pop Culture presentation is an enlightening adventure which demonstrates the influence and importance of how our collective pop culture brings us all together into a hilarious shared experience.
About Leigh Rubin:
Leigh began his cartooning career in 1978 by establishing his own greeting card company, Rubes Publications. His first cartoon collection, the popular Notable Quotes musical cartoons, was published in 1981.


2017 marks the 33nd anniversary of Leigh's daily cartoon, Rubes®, which is now, distributed by Creators Syndicate to more than 400 newspapers and media outlets worldwide.