Leif Johansson - Karlskrona Dialogues

Tuesday, January 17, 2012 from 5:00 PM to 8:00 PM (CET)
Event Details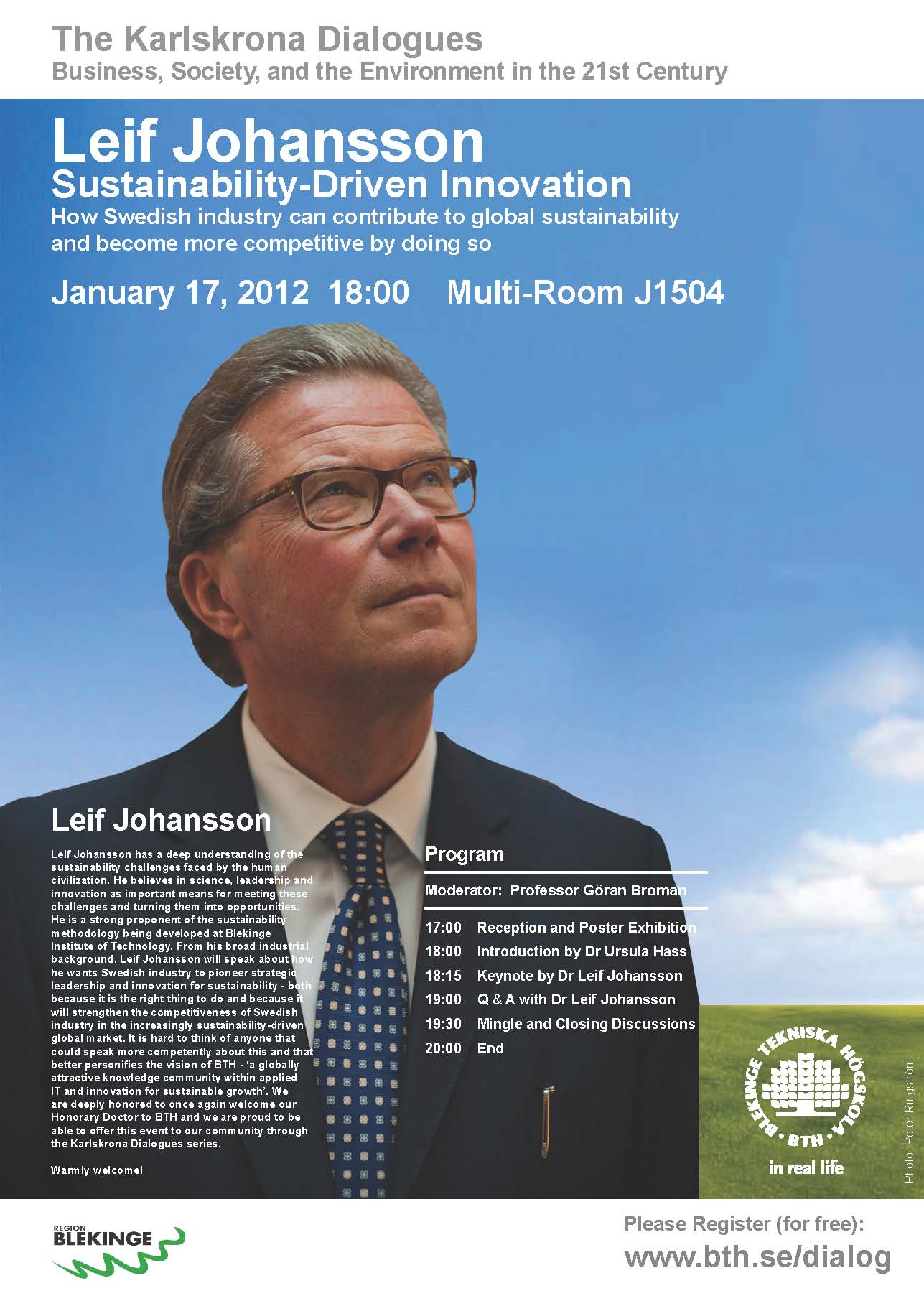 Sustainability-Driven Innovation
 - how Swedish industry can contribute to global sustainability and become more competitive by doing so
Leif Johansson is one of the most prominent business leaders in Sweden. He has been President of Husqvarna Motorcycles, Facit, Electrolux and The Volvo Group and is a board member of SCA and Chairman of Ericsson. He is also President of the Royal Swedish Academy of Engineering Sciences, board member of the Confederation of Swedish Enterprise and Chairman of the European Round Table of Industrialists. Leif Johansson has also been engaged repeatedly by the Swedish Government and was, for example, member of Prime Minister Göran Persson's Oil Commission and Chairman of the Governmental Delegation for Science and Engineering Education.
Leif Johansson has a deep understanding of the sustainability challenges faced by the human civilization. He believes in science, leadership and innovation as important means for meeting these challenges and turning them into opportunities. He is a strong proponent of the sustainability methodology being developed at Blekinge Institute of Technology. From his broad industrial background, Leif Johansson will speak about how he wants Swedish industry to pioneer strategic leadership and innovation for sustainability - both because it is the right thing to do and because it will strengthen the competitiveness of Swedish industry in the increasingly sustainability-driven global market. It is hard to think of anyone that could speak more competently about this and that better personifies the vision of BTH - 'a globally attractive knowledge community within applied IT and innovation for sustainable growth'. We are deeply honored to once again welcome our Honorary Doctor to BTH and we are proud to be able to offer this event to our community through the Karlskrona Dialogues series.
Warmly welcome!
Programme:
17:00-18:00    Reception and Poster Exhibition.
18:00-18:15    Introduction by Dr Ursula Hass, Vice-Chancellor of BTH: "A world leading university
                          focusing on applied IT and innovation for sustainable growth".
18:15-19:00    Keynote by Dr Leif Johansson, Chairman of Ericsson: "Sustainability-driven innovation
                           – how Swedish industry can contribute to global sustainability and become more
                          competitive by doing so".
19:00-19:30    Q & A with Dr Leif Johansson.
19:30-20:00    Mingle and closing discussions in the poster area.
Moderator:  Professor Göran Broman
This lecture will also be broadcast live online at http://bit.ly/x9XZpm.
Karlskrona Dialogues
We are living in a time of unprecedented change. The future holds more complex challenges and exciting opportunities than ever before. Join internationally renowned experts in a stimulating dialogue about important changes shaping business, the environment and society in the 21st century. 
For more details on the Karlskrona Dialogues series, see www.bth.se/dialog
When & Where

Blekinge Institute of Technology

371 79 Karlskrona



Tuesday, January 17, 2012 from 5:00 PM to 8:00 PM (CET)
Add to my calendar
Organizer
Blekinge Institute of Technology