Sales Have Ended
Ticket sales have ended
Please don't forget to bring a copy of your receipt that has been emailed to you from eventbrite
Sales Have Ended
Ticket sales have ended
Please don't forget to bring a copy of your receipt that has been emailed to you from eventbrite
Description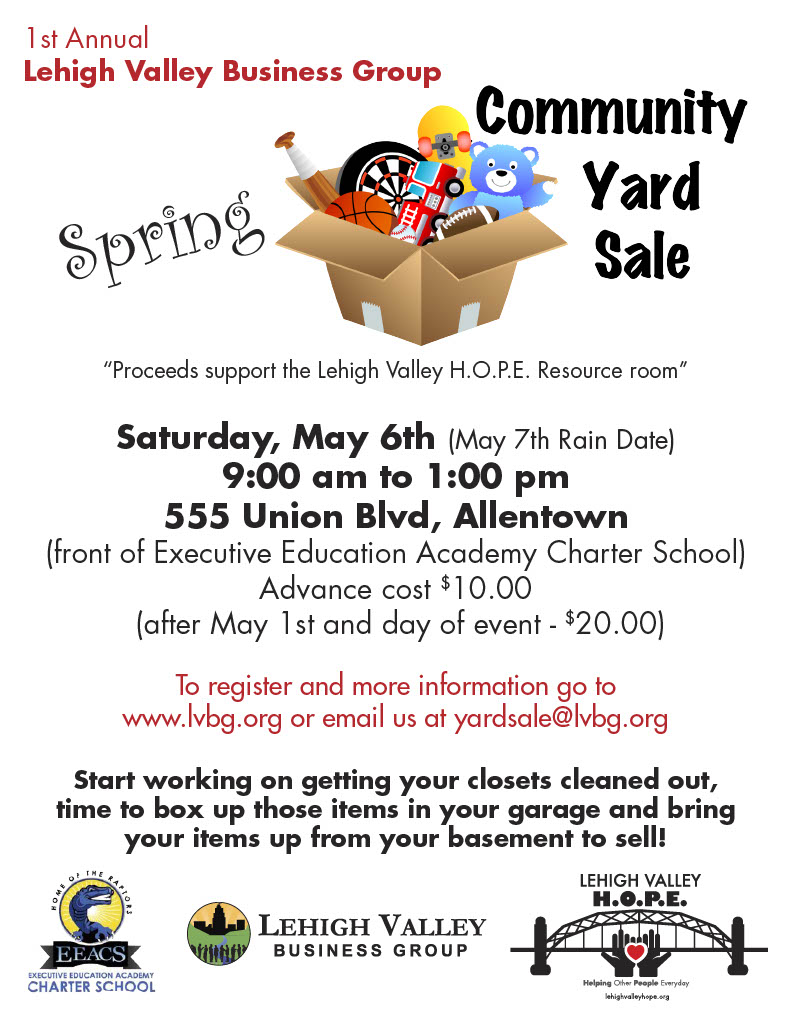 This event is a fundraiser for the Lehigh Valley H.O.P.E. Community Resource Room. This community room is operated by the nonprofit org Lehigh Valley Business Group. We are all nonpaid volunteers. This room opened September of 2016. Its mission is to help those in need, for free. We help the local homeless, homeless transitioning out of homelessness into housing (including individuals, families, veterans), Fire and other emergencies, returning military and other local organizations. All items are free with an agency referral. Your donation(s) from this community yard sale and / or monetary donations are greatly appreciated and will allow us to continue helping those in need through-out our community!
Cost is $ 10.00 before May 1st, After May 1st or on the day of will be $ 20.00. On the day of we will only accept cash $ 20.00). No refunds after April 1st, 2017
Credit Card Payments: Go to the LVBG website and register on line if paying by credit card. Website is www.lvbg.org. Look for the Yard Sale picture / information on the front page
Check Payments: We accept checks and / or money orders. These should be made out to Lehigh Valley Business Group. Address is 4418 Wagner Drive, Bethlehem, PA, 18020. Checks / money orders need to be received no later than May 1st.
Time: The Community Yard Sale begins at 9:00 am and ends at 1:00 pm (Rain date - May 7th) You will not be permitted to leave before 1:00 pm due to safety issues and the area will be roped off
You can arrive at 7:00 am - 8:45 am – No vehicles will be permitted to enter after 8:45 am. Spaces are not reserved, it's a first come basis. We will have a list by names who paid and who hasn't.
Vendors / Participants must have registered and be a paid vendor / participant. You will receive two (2) parking spaces. One for your vehicle, and one (1) parking space to sell from right next to you. Vehicles are required to be parked faced forward at the space given. There will be no special spaces nor more than one vehicle to sell from during selling hours. You can also sell from the back of your vehicle. You will NOT be allowed to run (turn your vehicle on) your vehicle during the event
All parking spaces are in front of the Executive Education Academy Charter School located at 555 Union Blvd, Allentown. (this is the big building in front of the Iron Pigs Baseball Stadium) for maximum exposure and for all traffic on Union Blvd & Tilghman Street Bridge to see this event
Vendors / Participants MUST supply your own tables, chairs, canopy, cash, credit card devices, etc. WE will not handle any cash for you. If you are setting up a canopy, you will be responsible for any damages to other vehicles or merchandise if this is unsecured. You are required to keep all your merchandise and canopy within your own area. Vendors / Participants can set their own prices, specials, etc. and keep 100% of their profits. If anyone wishes to donate a portion or all their profits to the Lehigh Valley H.O.P.E. room, we would be honored.
You must remove ALL your items not sold, including debris, garbage, etc., unless you're willing to donate any / all your unsold items to the Lehigh Valley H.O.P.E. Room. We DO NOT ACCEPT the following items: TV's, broken electronics, broken or missing pc's / items. Please see someone from Lehigh Valley Business Group about this before donating
No items such as weapons, Illegal items or anything similar. No Fireworks, no Adult toys, etc. that is deemed harmful or inappropriate. These will not be tolerated and will be removed. This is a school atmosphere and if necessary, the Allentown Police will be called
Vendors / Participants are NOT permitted to sell food or drink. LVBG will have their own food / beverage vendors on site to purchase these items. Proceeds helps LV HOPE room
Vendors / Participants are required to oversee their own belongings. It is required to have someone at your space always. If it is brought to our attention that merchandise has been stolen the Allentown Police will be called to investigate
Parking for those attending will be directed to either the rear of the school (lower parking lot for where we park for the Iron Pig's games, or alongside where Career link is. Signs should be up with arrows for Parking
Questions? Send these to us @ Yardsale@lvbg.org
Kevin Cope
Founder / CEO