Description
On Saturday, July 1st, 2017, SoulPancake's LEGO® show, BRICK X BRICK, and Play-Well TEKnologies are partnering up to bring you the LEGO® event of the summer! Parents and kids, join us at Reed Park in Santa Monica and help us build as many LEGO® "origami" peace cranes as we can! In Japanese culture, origami cranes represent peace and hope. We want to bring the community together to work on this record-breaking goal, and maybe make a few new LEGO-loving friends in the process ;) All LEGO® pieces and instructions will be provided, plus additional fun LEGO® activites to enjoy.
Click here to check out an episode of BRICK X BRICK with host Adam Ward!
You may sign up for one of two time slots on Sat July 1st:
10:00am - 12:00pm
1:00pm - 3:00pm
(When reserving tickets, please count total children and adults attending)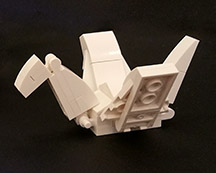 Filming
Please note, this event will be filmed. We ask that you click here to sign an appearance release form for yourself and children. You do not have to speak on camera if you would rather not, but all parents and kids must be aware that you may appear in the background while SoulPancake is filming.
Parking
2 hour metered parking and unmetered parking is available along the surrounding streets. If you are having trouble with street parking, there is a Santa Monica public lot at 1234 4th street, just a 10 min walk from the event.
Frequently Asked Questions
Can I drop my kid off at the event?
We ask that parents stay with their kids at all times
Will the kids get to keep their LEGO® creations after the event is over?
Can kids bring their own LEGO pieces to use?
We ask that kids keep their LEGO® pieces at home as we would not want them to lose their favorite LEGO® pieces.
Will there be water or snacks availalbe?
Yes! Light snacks and beverages will be provided. There are lots of restaurants in the nearby area if you think you will want to eat lunch before or after the event.