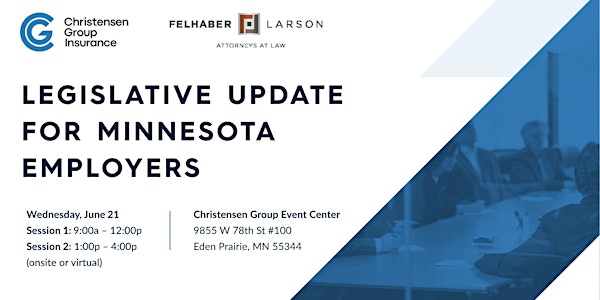 Legislative Update for Minnesota Employers
Join us for the latest updates in MN Employment Law presented by Felhaber Larson and Christensen Group Insurance.
By Christensen Group Insurance
Date and time
Wednesday, June 21 · 9am - 4pm CDT
Location
Christensen Group Insurance 9855 West 78th Street Eden Prairie, MN 55344
About this event
An informative session where we will delve into the new employment laws passed in the latest MN legislative session. Gain insights into the upcoming MN employment laws including Non-Compete, Nursing Mothers Accommodations, Pregnancy Discrimination, Recreational Marijuana, Paid MN FMLA Leave, and Paid Sick Leave. Be prepared to expand your knowledge and stay up-to-date on the evolving landscape of employment regulations. Two 3-hour sessions with the same content will be offered onsite: Session: 9a - 12p and Session 2: 1p - 4p. A virtual option is now available in the afternoon as well.
Topics to be covered:
Non-competes (eff. 7/1/23)
Nursing Mother's Accommodations (eff. 7/1/23)
Pregnancy Discrimination (eff. 7/1/23)
Recreational Marijuana (eff. 7/1/23)
Statewide Paid Sick Leave (eff. 1/1/24)
Statewide Paid FMLA Leave (eff. 1/1/26)
SHRM Credit – 3 PDCs
We invite you to stay for lunch, providing an excellent opportunity to further your learning experience and engage in valuable networking with fellow participants.
Session 1 from 9a -12p, lunch served at 12p, onsite only
Session 2 from 1-4 p- no lunch (onsite and a virtual option)