Description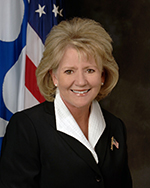 To kick off our "Meet Your Elected Officials" series, WTS will be hosting a small meet and greet with Mary Peters on January 24th! Although Mary has not served in an elected office, her experience and influence in transportation policy is unmatched. Governor Hull appointed Mary to Director of the Arizona Department of Transportation in 1998 before President George Bush asked her to serve as Administrator of the Federal Highway Administration in 2001 and US Secretary of Transportation in 2006. Mary is currently principal of her own firm, Mary Peters Consulting Group.
Mary will give us a brief overview of the world of transportation policy and how we can engage with our Legislators to support this vital element of our state and national economies. Afterwards, there will be time for networking and one-on-one interaction. To keep this event small, tickets will be limited and available to members and their guests (1 guest per member) only until January 10th.
Availability is limited so register soon to take advantage of this unique opportunity!
Location provided by Triadvocates.