About this Event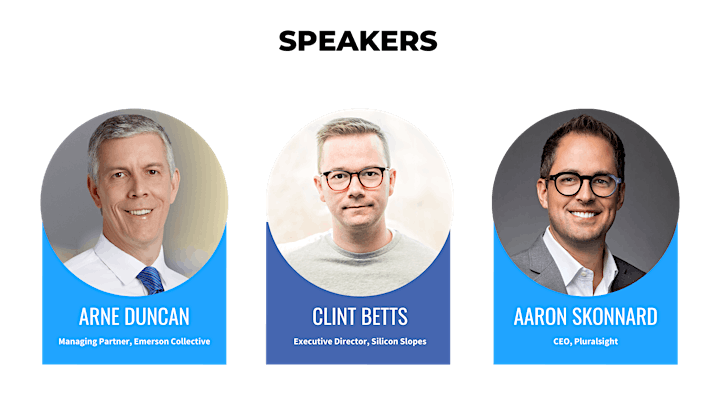 Arne Duncan, frmr U.S. Secretary of Education, Managing Partner at Emerson Collective
As managing partner at Emerson Collective, former U.S. Secretary of Education Arne Duncan returns to Chicago on a mission to improve the lives of young adults in his hometown. Through partnerships with local business leaders, community organizers, and nonprofit groups, Duncan aims to create job and life opportunities for disconnected youth between the ages of 17 and 24.
In 2018, Secretary Duncan published a book titled "How Schools Work" with the first sentence "Education runs on lies." You can read more about his book and views on the public education system here.
Clint Betts, Executive Director of Silicon Slopes, Moderator
Clint Betts is the executive director and editor-in-chief of Silicon Slopes and Beehive Startups. In 2013, Betts founded Beehive Startups to tell the stories of Utah entrepreneurs and startups. In 2016, Beehive Startups created a new nonprofit organization and joined forces with Silicon Slopes inside of that entity to empower Utah's tech community to learn, connect, and serve. In addition to his duties as executive director and editor-in-chief, Betts also is the publisher of the quarterly Silicon Slopes Magazine; and founded Startup Santa, a state-wide children's book drive to help eradicate childhood illiteracy.
Aaron Skonnard, CEO of Pluralsight
Aaron is a co-founder of Pluralsight where he serves as the Chief Executive Officer. Aaron has spent years developing course materials and teaching professional developers throughout the world. He has presented at many popular developer conferences like PDC, TechEd, and VSLive! Microsoft recognized Aaron as an MVP in the "Connected Systems" developer community for eight years. Aaron has written numerous books, articles, and whitepapers including the Essential XML Quick Reference (Addison Wesley, 2001), Essential XML (Addison Wesley, 2000), and his popular columns in MSDN Magazine.