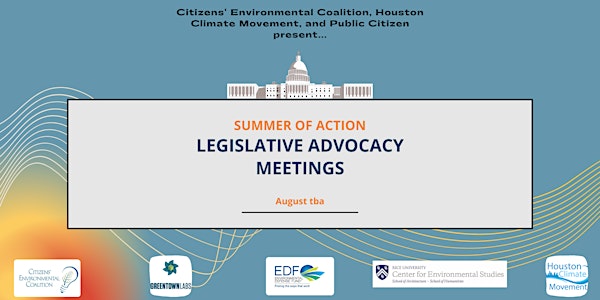 Legislative Advocacy Session - Town Hall Dist. 7 | Rep Fletcher
Join us to put everything we've learned during the Summer of Action into action in a small-group advocacy meeting with your Representative!
About this event
Please join us and your neighbors to discuss the Bipartisan Infrastructure Law, Justice 40, and how these programs can benefit your community with your Texas District 7 Representative - Lizzie Fletcher.
This meeting will be an hour Town Hall held over Zoom. Whether this will be your first time interacting with an elected official or you are a seasoned advocate, we encourage you to attend! It will be Thursday, August 18, 2022 from 6:00-7:00pm. RSVP here: https://fletcher.house.gov/events/
--
Thanks to a grant from the Environmental Defense Fund, Citizens' Environmental Coalition and Houston Climate Movement are able to host a series of events as part of our Summer of Action!
In June, we hosted Listening Sessions to gather community input on climate concerns and related needs. In July, we used those community needs and concerns to inform the topics of our three Knowledge and Skill-Building Sessions.
In August, we will use the information from our Knowledge and Skill-Building Sessions to guide conversations in Legislative Advocacy Sessions with Congressional Representatives of the Houston area.
The goal of our Summer of Action is to bring together Houston community leaders and members to have conversations, share knowledge, and spur action toward creating short- and long-term goals for the future of Houston's climate and sustainability. We wish to uplift and join forces to amplify each other's existing missions and environmental narratives to work as a unified wave of people power!