Legends of Health ► at the National Conference of Traditional Healing
About this Event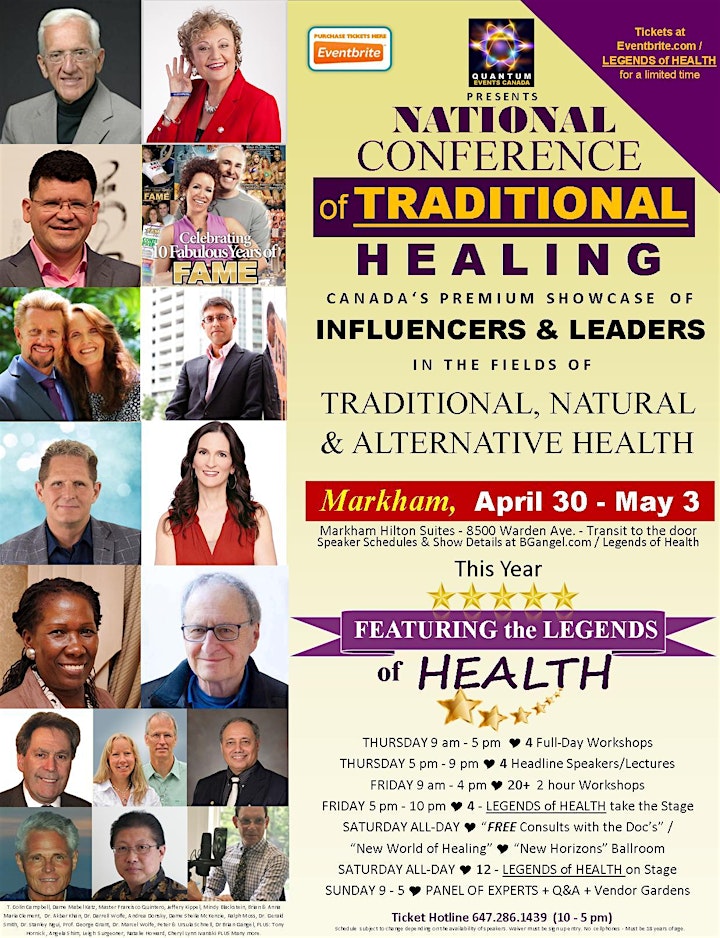 Welcome to
the NATIONAL CONFERENCE OF TRADITIONAL HEALING
This Years' Theme: Meet the Legends of Health
NOW A 4-Day EVENT!
April 30 - May 3, 2020 ►OPEN TO THE GENERAL PUBLIC / HEALTH PRACTITIONERS
VENUE: the Markham Hilton Suites & Conference Centre, Markham, Ontario Canada
Willow Ballroom Complex
Expected Attendance: 350 – 400.
24 International Speakers / 24 Workshops (see list below)
EVENT HIGHLIGHTS:
►THURSDAY 9 am - 5 pm Y 4 Full-Day Workshops
►THURSDAY 5 pm - 9 pm Y 4 Headline Speakers/Lectures
►FRIDAY 9 am - 4 pm Y 20+ 2 hour Workshops
►FRIDAY 5 pm - 10 pm Y 4 - LEGENDS of HEALTH take the Stage
►SATURDAY ALL-DAY Y "FREE Consults with the Doc's" Ballroom / "New World of Healing" Ballroom / "New Horizons Health Products" Ballroom
►SATURDAY ALL-DAY Y 12 - LEGENDS of HEALTH on Stage
►SUNDAY 9 - 5 Y PANEL OF EXPERTS + Q&A PLUS Vendor Gardens
HOTEL ACCOMMODATIONS: https://www.hilton.com/en/hi/groups/personalized/Y/YYZAPHF-1LHC-20200430/index.jhtml?WT.mc_id=POG
Welcome to the National Conference of Traditional Healing. We are devoted to delivering PREMIER health care information & education to every citizen of the world. The Mission of the Conference is to educate and empower our attendees to take positive steps towards reaching their ideal health goals. Our aim is to help every person to get their health back via a self-directed journey of discovery. We offer an insight into many of the traditional healing methods found around the world. This includes Fitness, Energy Medicine, Holistic Dentistry, Body Work, Nutrition, Healthy Eating, Horticulture, Vastu Earth Sciences, Ancient Arts, eMotional Healing, Quantum Physics, Biochemistry, Biology & Food Technologies.
We have an impressive list of Guest Speakers and Industry Leaders ready to present: New Breakthroughs, Scientific Discoveries and Real World experiences in the exciting fields of traditional healing. We are very proud to have over 30 Head-Line Speakers and Presenters at this years' conference:
T. Colin Campbell – Leader in the Whole Food Plant Based Movement (Best Selling Author: Whole & The China Study) 2 LECTURES
Brian & Anna Maria Clement – Hippocrates Health Institute - LECTURES & WORKSHOP
Master Francisco Quintero - Rep. Master Sha, TAO CALLIGRAPHY HEALING
Dame Mabel Katz - Ho'oponopono in CANADA
Dr. Darrell Wolfe – Doc of Detox /Brave Heart - 1 FULL DAY WORKSHOP, 2 LECTURES & 1 WORKSHOP
Ralph W. Moss Ph.D. - Movie Second Opinion, Author Moss Reports
Mindy Blackstien & Jeffrey Kippel - Body Proud & FAME / Fitness Health Experts - 2 TALKS & 1 FULL DAY WORKSHOP
Dame Dr. Sheila McKenzie – President of the BOIM / WOIM - 1 LECTURE
Dr. Gerald Smith – DDS, DNM, Dental Whole Body Connection - 1 FULL DAY WORKSHOP & 1 LECTURE
Prof. George Grant – Ph.D. Academy of Welness - 1 LECTURE, 1 WORKSHOP
Dr. Akbar Khan – Medicor Cancer Centres - 1 LECTURE, 1 WORKSHOP
Dr. Stanley Ngui – Ngui Matrix - 1 LECTURE, 1 WORKSHOP
Dr. Marcel Wolfe – Zepter International - 1 LECTURE, 1 WORKSHOP
Mr. Tony Hornick – The Sprout Man - 1 WORKSHOP
Mrs. Andrea Donsky – Moderator / TV Personality / Naturally Savvy
Peter & Ursula Schnell – Litios Light Crystals 1 WORKSHOP, 1 TALK
Angela & Ray Shim - Heart Scents Purpose - Young Living Oils - 1 WORKSHOP
Sharon Walsh - Novasonic - 1 WORKSHOP
More Announcements to follow: A complete list of speakers & time table of workshops is available at BGangel.com
*Availability of speakers is subject to change.
** All attendees must sign a waiver / non-disclosure / code of conduct at the event.
*** This will be an EMF Free event. Cell phones are not permitted in the ballrooms.