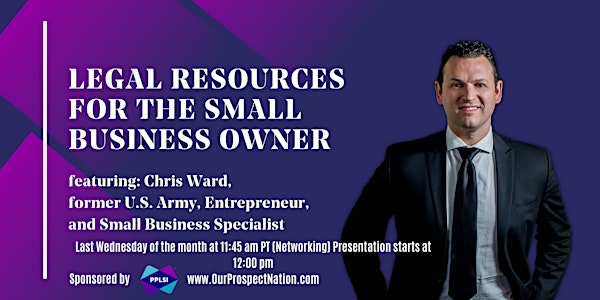 Legal Resources For The Small Business Owner
You are in business for yourself, but you are not by yourself. This workshop is about learning about resources to help you and your business
About this event
Entrepreneurs who did not attend or finish college outnumber those with higher-education degrees across both genders. That leaves a lot of business owners learning as they go. Business owners who skipped out on education all shared some common threads: self-reliance, a good idea, and a willingness to take risks.
Navigating those waters can be intimidating and even lonely at times. I know exactly how you feel because that was my story. I want to let you know that we have a wealth of resources in the community to help protect and grow your business.
Who is this event for? Anyone who is self-employed, that may be running their business with a spouse or significant other. Perhaps you would like to grow your business and feel stuck. If this resonates with you, then we invite you to join us.
Cost: 30-min of your time
Speaker Bio:
An experienced Colorado-based B2B and B2C salesman and marketer, Chris Ward protects and empowers other business owners by protecting their bottom line and reducing legal costs that may cripple a business. With networking as his core skill, he draws from specialized training as a Human Intelligence Collector in the United States Army, to be a resource for individuals, families, and businesses to connect with people providing a product or service that they need. He has been with PPLSI since August 2007.