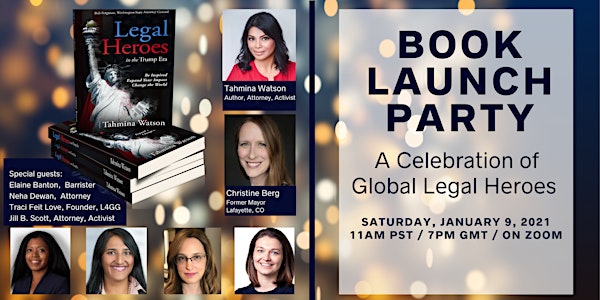 Legal Heroes Book Launch Party- A Celebration of Global Legal Heroes!
Join us for the book launch party of Legal Heroes in the Trump Era
About this event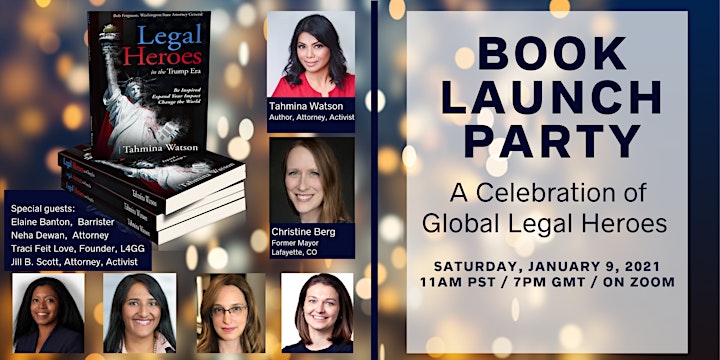 Please join the Bangladeshi Americans for Political Action, Watson Immigration Law. and esteemed guest speakers to celebrate the book launch of "Legal Heroes in the Trump Era," and its author, activist, and attorney, Tahmina Watson.
Date: Saturday, January 9, 2021
Time: 11:00-12:30 PM PST/ 7:00 PM GMT
Location: Zoom info provided upon registration
This event is complimentary but please register at:
(add Eventbrite link here)
The event will be moderated by Christine Berg, former mayor of Lafayette, Colorado and host of the podcast "Politicking Like a Mom."
This event features a discussion with noted attorneys, human rights experts, activists, and legal heroes featured in the book:
• Jill Scott, Legal Director Zymeworks Inc. and volunteer, WIDEN
• Traci Feit Love, Founder and Executive Director, Lawyers for Good Government
• Elaine Banton, Barrister, Chambers at 7 Bedford Row, London, United Kingdom
• Neha Dewan, Of Counsel, Wilson Elser Moskowitz Edelman & Dicker, LLP, & National Director, South Asians for Biden
The Attorney General of Washington State, Bob Ferguson has been invited. We will keep you posted.
A special thanks to the law firm Hammond, Neal, Moore for their incredible support for the book, this event and the cause! To the Bangladeshi Americans for Political Action (BAPA), Watson Immigration Law and the Podcast, Politicking Like a Mom.
Let's celebrate the dedication, sacrifice, and indomitable spirit of attorneys working for social justice and a better world.
There will be signed book giveaways and swag! If you are a lucky winner, we'll mail it to you wherever you are in the world. Don't miss this!
Please reach out if you have questions: info@watsomimmigrationlaw.com