Description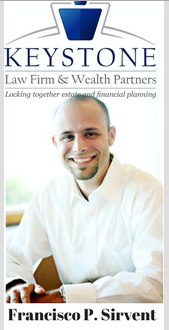 Proceeds Benefit Chandler School Boosters, Inc.
Attorney Francisco Sirvent and Keystone Law Firm is partnering with Chandler School Boosters to offer workshops for busy parents of seniors graduating in April and May. The fee of $35 per student will benefit Chandler School Booster activities.
Keystone Law Firm, an estate planning and probate firm in Chandler, and its owner Attorney Sirvent want to help parents secure two legal documents that will give provide them peace of mind in knowing they can be a part of their child's health care decisions. What shocks many parents is learning that as soon as their child turns 18, they can no longer make legal decisions for their kids without proper legal documentation. What's more, they also no longer have any special "rights" to receiving private information, such as health care information, without the child's permission.
Graduation is less than six months away. Soon, your senior will be 18 and will be off to college in another town, or another state. Imagine your child getting hurt in some other city or state, and you cannot get any information about his or her condition because you do not have the documents authorizing the physician or hospital to speak with you.
This workshop will provide parents with two documents:
Healthcare Power of Attorney

HIPAA Authorization
When prepared and witnessed correctly, these documents can supply the permissions needed by a parent of an adult to learn medical information and to make health care decisions for their adult child.
Prepared professionally by a law firm, these docs can cost up to $495. Those seniors and parents who attend one of the four workshops, will learn the Arizona laws around powers of attorney and HIPAA directives, and will receive executed legal documents for only $35 per child. All proceeds will benefit the hosting school's Chandler School Booster account. Keystone also will archive and file these documents with the state so they may be accessed anywhere online.
To be eligible for the workshop, the child must be age 17 ½, and must be an Arizona graduating senior in May 2019. Both parents and the child must attend the two-hour event. All registrations must be paid at the time of registration
Individual links will be sent to each school. Attendees DO NOT NEED to be enrolled at a given High School in order to attend the workshop. Parents of other school districts also are invited. Parents may share the link or forward this email to friends in other districts.
Completing this EventBrite will let us know you are coming, BUT TO COMPLETE YOUR REGISTRATION, YOU MUST CLICK THE LINK TO MAKE YOUR $35 DONATION.
Every dollar to directly benefit Chandler School Boosters!
Include Your Child's Name as Client and the School Site of Workshop in First Field of ADDITIONAL DETAILS OF FORM