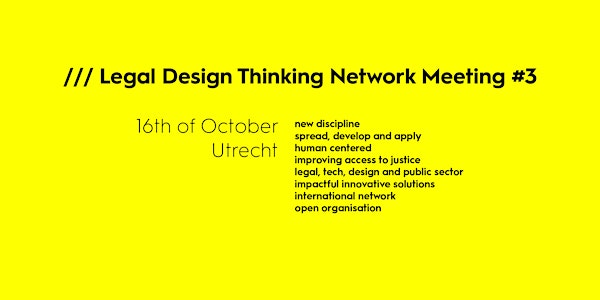 Legal Design Thinking Network meeting #3
When and where
Location
Hogeschool Utrecht - lokaal 2.207 Padualaan 101 Utrecht Netherlands
Description
Join us on the 16th of October for the third session of the Legal Design Thinking Network. We have speakers who talk about their way of making law accessible from universities and practionairs point of view.
We are very happy with our speakers who are Elif Kiesow Cortez (Applied University The Hague), Ineke van den Berg (Applied University Inholland), Farshida Zafar (Erasmus University), Frits van Dijk (Carthemis) and Kim Raad (Stibbe).
Legal Design Thinking is an upcoming new discipline worldwide with the goal of improving access to justice in a human centered way. With this network we aim to further spread, develop and apply this mindset and (solve) justice problems, share knowledge and experience in Legal Design Thinking projects and showcase our work.
Everyone with an interest in solving justice problems and/or have a background in legal, tech, design or the public sector is invited to join the conversation. Justice problems need new input from different viewpoints and disciplines outside of the legal field, to be able to create impactful innovative solutions. Presentations will be in Dutch or English.
Get introduced with new way of thinking in the legal field and talk to like-minded people in our Legal Design Thinking network. We close the session with informal drinks!
Program
18:30 - 19:00 Walk in
19:00 - 19:15 Introduction
19:15 – 20:55 Talks by our 5 speakers
20:55 - 21:00 Closing
21:00 - Drinks & networking