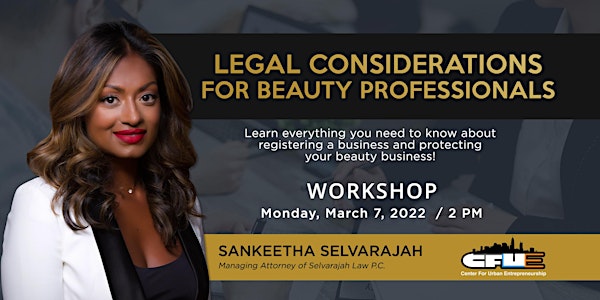 Legal Considerations for Beauty Professionals
Learn everything you need to know about registering a business and protecting your beauty business!
About this event
Workshop Host Bio:
Sankeetha Selvarajah is the Managing Attorney of Selvarajah Law P.C., a civil transactional firm located in Boston and New York. Her clients are within the cannabis, technology, real estate, food service, e-commerce sectors as well as, retail manufacturers. As an 4x Nationally awarded startup attorney, Sankeetha Selvarajah does more than clean up contracts. With more than a decade of legal and business consulting experience, she's passionate about creating better businesses by making law accessible to business owners. She is also the CEO of STARTUP DOX, a Done-With-You platform designed to assist founders with cost-effective legal options for Corporate formation and document generation, all with Attorney Review. As outside general legal counsel to over 240 small businesses, she has also worked with startups as an advisor, strategist, and reluctant therapist. No matter which role she's playing, her goal is simple -- to educate founders and business owners to enable themselves to drive measurable results.
How to sign up:
Click the 'register' button on this page to sign up, and a confirmation email will be sent to you with an updated eventbrite link. Return to this link ~30 minutes before the meeting to access the Zoom link for this event. We hope to see you there!