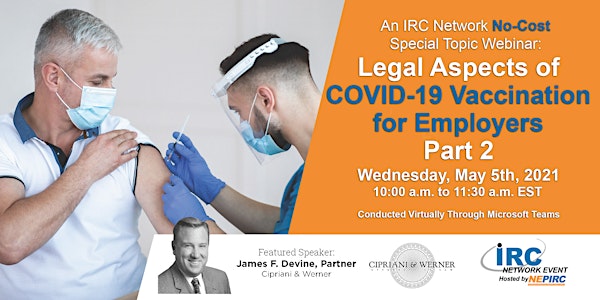 Legal Aspects of COVID-19 Vaccination for Employers Webinar - Part 2
Date: Wednesday, May 5th, 2021 Time: 10:00 to 11:30 a.m. EST Delivered virtually through Microsoft Teams
About this event
Join the PA IRC Network for Part 2 of the Legal Aspects of COVID-19 Vaccination for Employers webinar series.
Since Part 1 of this webinar aired in February, there have been many developments and updates regarding COVID-19 vaccination. During Part 2 of this no-cost webinar series, Attorney James Devine will cover these developments in detail for small to mid-sized manufacturers.
Webinar format:
Presentation of COVID-19 vaccination developments and updates
Q&A
If you have a question you'd like to ensure is covered during this event, please submit it to Chelsey@NEPIRC.com by Friday, April 23rd. We will once again prepare a complete Q&A document after the webinar airs that will be available for download on the NEPIRC website.
This webinar will be aired on the Microsoft Teams platform. You will receive the access link the day before the event via email.
Missed Part 1 of the Legal Aspects of COVID-19 Vaccination for Employers webinar but would still like to participate in Part 2? No problem!
You can access the first webinar recording by clicking here.
You can also download the slide deck and Q&A document by visiting the NEPIRC website.
Featured Speaker: James F. Devine, Partner – Cipriani & Werner
Atty. Devine is a Cipriani & Werner partner with 25+ years of experience in representing manufacturers in the areas of ADA, FFMLA, EEOC, PHRC, disciplinary action/discharge and other employment law specialties. He currently plays a leadership role on the firm's COVID-19 and pandemic response litigation team, with a special focus on vaccination law.
Atty. Devine received his bachelor's degree from Franklin & Marshall College and his Juris Doctor degree from the University of Pittsburgh School of Law.
Cipriani & Werner is a multidisciplinary law firm with more than 150 professionals in 15 offices across eight states, including Pennsylvania, New York, New Jersey and Washington, DC.
Register now to secure your spot! Questions? Feel free to email Chelsey Coslett, at Chelsey@NEPIRC.com.