Sales Have Ended
Registrations are closed
Thank you for joining in the crusade to bringing out the best in African youth for positive impact
Sales Have Ended
Registrations are closed
Thank you for joining in the crusade to bringing out the best in African youth for positive impact
Description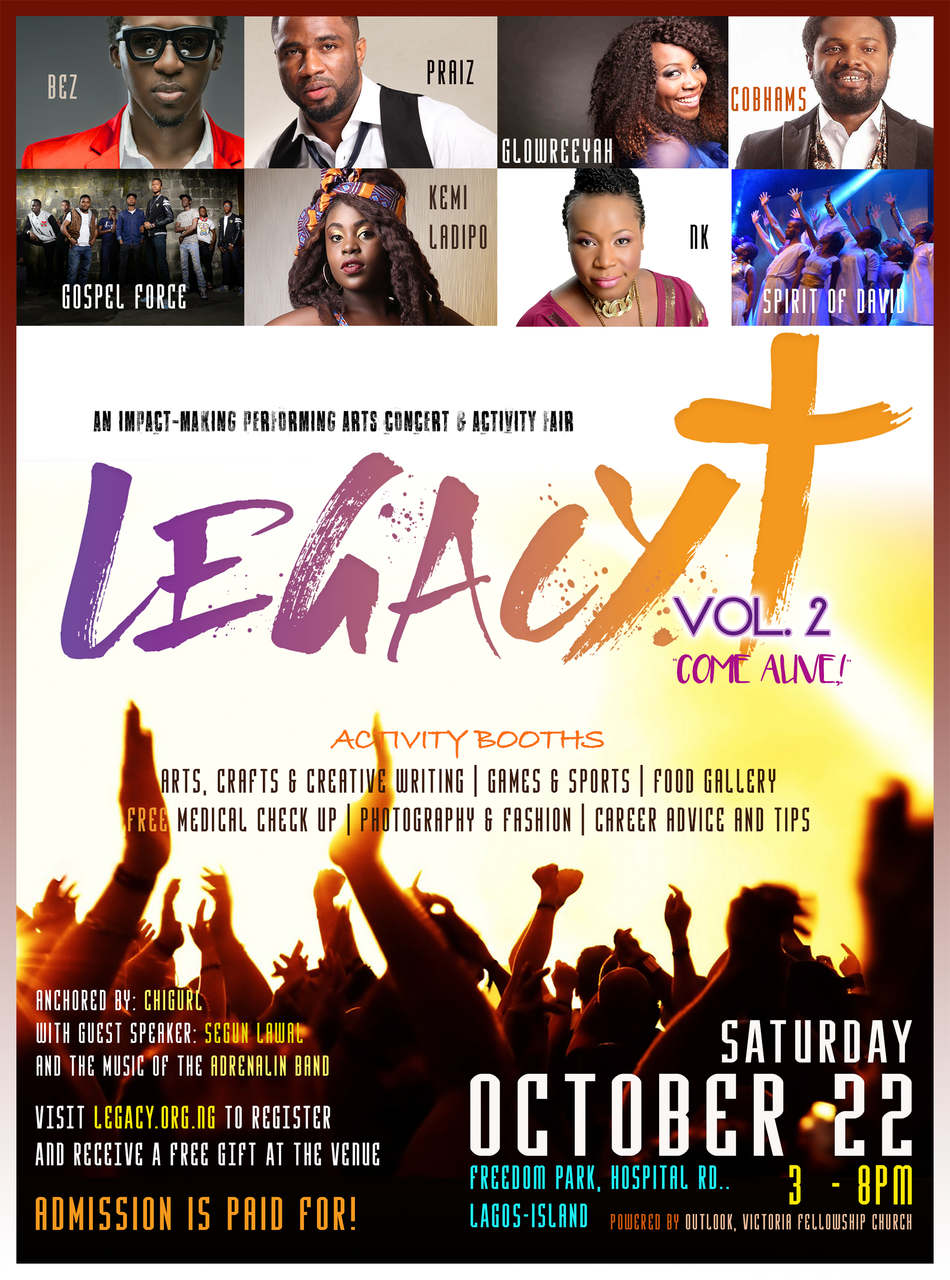 Legacy Volume Two is a major annual Youth Life Management Fair with performances. The event's main objectives over the years will be to draw the young in Lagos to Christ and raise models and standards for leadership in Nigeria.
At Legacy Volume 2 this year, each young visitor's attention is focused on the booth activity and stage performances, are shut down during such activity by a unique audible alarm system. Attendance at the maiden event reached 340+ persons through the 4hour duration. Annual attendance is projected to grow exponentially as the event gains traction.
The 2016 event will consist of two distinct time segments, namely:
- 2p.m. – 5p.m. to cater for senior secondary school students (SS1 to SS3)
- 5p.m. – 8p.m. to cater to young adults (16 to 35years)
- Targeted attendees - 500
We are Raising Standards and Models Within Our Society For Positive Impact!
This Years Event Is Expected To Be A Fun Filled Day Loaded With Mega Activities
Activities:
1) Food Booth (culinary skills)
2) Medical and Health
3) Future Booth* - Academic advice, job fair, counseling and sharing about goals attainment, personal development and ethical values
4) Creative Writing/Drawing & Crafts Booth
5) Public Speaking Booth
6) Photo & Fashion (Visual)
7) The Labour of Our Heroes Past
8) ICT Entrepreneurship for Africa
Financial Intelligence ( Personal Finance -Saving and Investment Culture)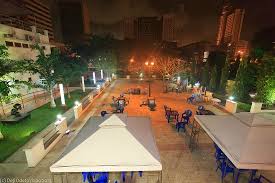 PREAMBLE – The Body of Jesus Christ at Victoria Fellowship Church, has been blessed by God over its generations since the church was established in 1969 thereabouts. The begetting of offspring, and seeing the blessing of children is a sign of God's favor, and this has led us to embrace the Concept of Legacy as equivalent to the concept of a continuing conquest for the soul of man.
As the Lord Jesus Christ said in Matthew 28:18
"All authority in heaven and on earth has been given to me. Go therefore and make disciples of all nations, baptizing them in the name of the Father and of the Son and of the Holy Spirit"
By this same Holy Spirit, we at VFC have been given a glimpse of eternity and a longing in our hearts for God (Ecclesiastes 3) which is lasting. The purpose of what is lasting, according to the Teacher, is to further our reverence for God.
The Bible ties legacy not to what may be lauded about men and women, but what may be credited to God.
Victoria Fellowship Church cherishes its young, and the succeeding Godly generations to come. Wherefore, it has been led to establish an annual gathering of its own young and others for the singular purpose of espousing the example and life of Jesus Christ, as the right way of life and true legacy ie. God's definition of right spelt out quite clearly through the example given by the life of Jesus and His teachings. It is the church's desire that this be propagated in the nation's youth at every opportunity.
Furthermore, VFC youth must be propelled by love. 'You shall love your neighbor as yourself.' There is no other commandment greater than this." Mark 12:29-31
This then is The VFC Legacy; that our smallest actions can be turned into big
things by God. Bearing fruit for the Kingdom, sowing in Christ's love and reaping young souls for the Kingdom of Heaven.
We commend to the VFC Youth, the VFC Legacy now and in the years to come. Amen.