Description
NOT THE END
This year will be my final Homecoming event.
I am extremely grateful to all my fellow Jaguars, and the city of Baton Rouge, for every opportunity I've had to bring you something unique for over two decades. From my start at Club Legends, to an historic hip hop night at Club Dreams, the "Sunday Headbob" on Max 94.1, opening major shows with The Ill Relatives, and coming back from Los Angeles and Chicago each year to host Alumni events... I have truly lived the dream. And while this is certainly not "the end", I am excited to close this chapter in order for us to open the next one. Hopefully, you'll continue to join me on this journey whether I bring this experience to your city or for one of several destination events planned for the future. The only thing left for me to do is pass the baton, which is why this final event is called...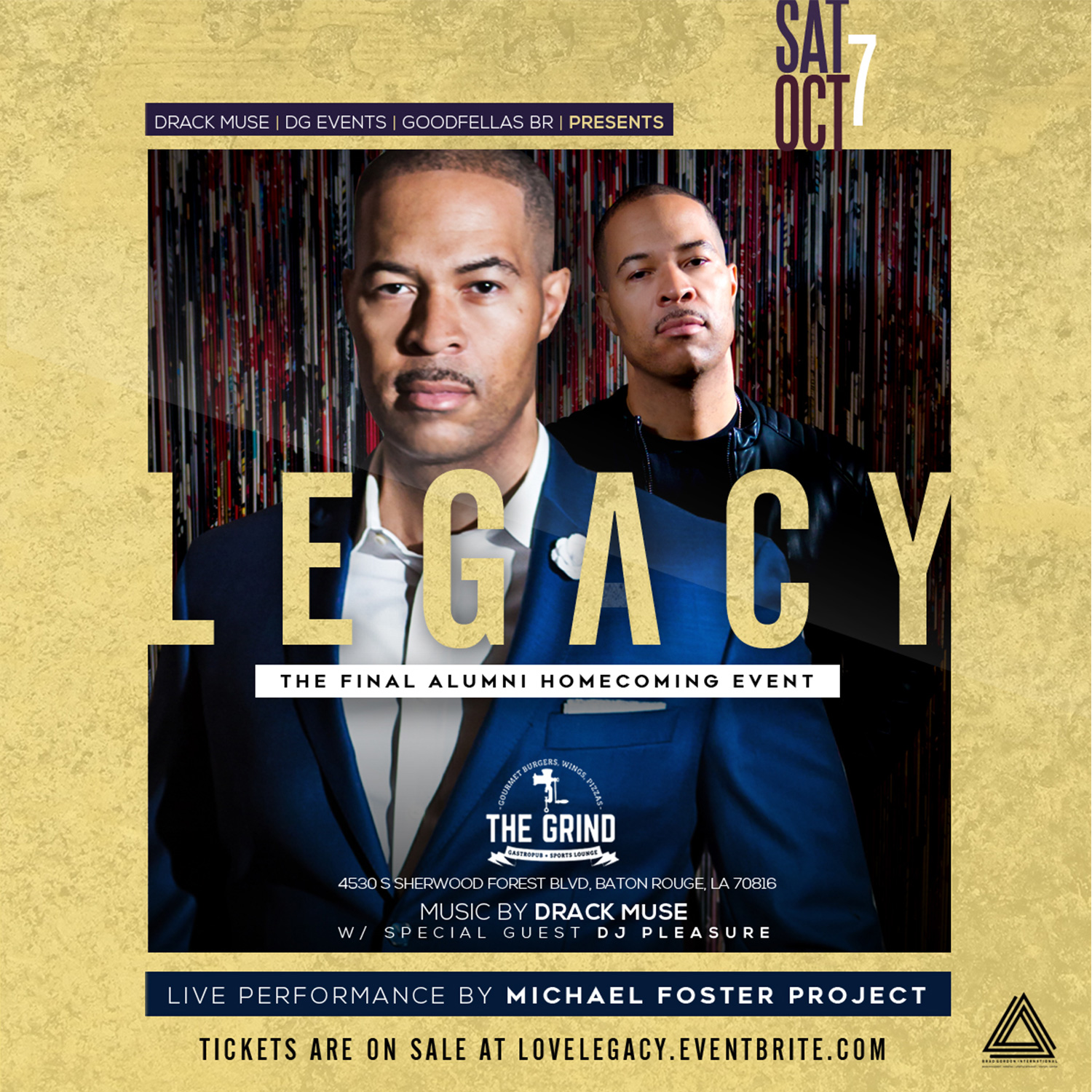 THE MUSIC
As usual, I'm breaking all the rules of what's expected and the music will be different. I'm also pleased to welcome back the Michael Foster Project for a live performance and special guest DJ Pleasure. So put your phones away and dance like it's the last one... because it is.
THE VENUE
Every year that I've hosted Homecoming events each one has been at a different venue. And this year is no exception has we expand this final event across two connected venues, The Grind AND Quarters. So expect a night of eats, beats, dancing and play with additional access to bowling and games all night.
ABOUT DRACK MUSE
Kendrick "Drack" Muse celebrates 20 years in entertainment. After receiving his first set of turntables at age 14, Muse was soon invited to be a guest mix show DJ at WKKC in Chicago while still in high school. From that moment he knew he would be a DJ for life. While continuing his education at Southern University in Baton Rouge where he excelled as a Mass Communications major, he quickly became the go-to DJ on campus. His "invitation only" Hip Hop nights at Club Dreams became legend, and grew so popular that students were bootlegging his invitations. Not only did this legendary night help him put himself through college, it afforded him another opportunity inradio. Upon graduation, he returned to radio at WEMX "Max 94.1", where he served as an on-air personality and launched the critically acclaimed hip-hop show The Sunday Headbob. Feeling the need to expand to a bigger market, he moved to Los Angeles to further his career in music. During the day he licensed music for Universal Music Group and by night deejayed countless events spanning multiple musical genres.
He is currently a resident DJ at Chicago's posh Virgin Hotel, co-founder of Los Angeles' largest Soulful House Music Festival (SOULNIC) as well as a rising Music Supervisor with several films under his belt. However, his favorite gig of all time is being a husband and father of two.