Legacy Conversions & Micro Businesses

Friday, October 12, 2018 from 10:00 AM to 11:00 AM (PDT)
Event Details
In our fourth of five webinars, our speakers will talk about converting legacy businesses into cooperatives and the various ways micro businesses can cooperate.
Speakers: 

Shevanthi Daniel-Rabin, Democracy at Work Institute
Shevanthi (Shev) is passionate about the intersection of sustainable business and economic development. Her work spans over fifteen years in community and labor organizing, and strategic capacity building with nonprofit and small businesses. She previously served as Lead Manager of Worker Cooperative Initiative at Pinchot University - Center for Inclusive Entrepreneurship, and also helped develop a Cooperative Management Certificate program at Pinchot University. Shevanthi has managed and implemented large-scale labor organizing and worker justice campaigns with SEIU1199 NW, and programs centered on civil rights and social justice leadership, in rural and urban centers across the country, as well as solidarity work in South Africa, Nicaragua and Ethiopia. Shevanthi is also a co-founder of the O'Dell Education Center, a nonviolence direct action and leadership academy in Washington State, owned and operated by the Institute for Community Leadership. She is also Executive Board member at the Center for Women in Democracy, strengthening women's capacity and leadership in public and private sector. Shevanthi has an MBA in Sustainable Business from Pinchot University and BA in History and Anthropology from University of Washington.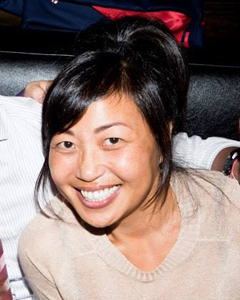 Soyun Park, Micro Business Network
Soyun is an organizer, a trainer, an organization builder and a movement strategist. She has over 25 years of experience with youth and community organizing in Black and Brown communities to affect local, state, and national policy change on racial and economic justice issues and immigrant rights issues.Over the last few years, Soyun has been focused on community economic development, working with owner operator micro businesses fighting predatory development in DC. A natural ally of neighborhood residents and workers, she has mobilized micro business owners in support of progressive worker policies, against public utility rate increases, and to push the largest electric holding company in the US to provide sustainable alternatives. She is also working in Baltimore with Korean owned liquor storeowners and the surrounding Black communities to identify solutions to city policies that perpetuate anti-Blackness and racial triangulation. She grew up in this country as the daughter of an immigrant shop owner and brings this experience into her political and organizing work to make an impact. She lives East of the River in DC with her two beautiful children.
Facilitators:
Yvonne Yen Liu, Solidarity Research Center 
Yvonne is the co-founder and research director of Solidarity Research Center, a worker self-directed nonprofit that advances solidarity economies. She serves on the board of the US Solidarity Economy Network and was named the 2018 Activist-in-Residence Fellow at the UCLA Asian American Studies Center. 

Parag Rajendra Khandhar, Asian American Solidarity Economies Project 
Parag is a founding principal of Gilmore Khandhar, LLC, a law firm focused on legal, policy, and advocacy tools to advance economic justice, racial equity, and social transformation. He teaches at George Washington University Law School. Parag co-founded Baltimore Activating Solidarity Economies (BASE) and the Asian American Solidarity Economies Network (AASE).
Asian American Solidarity Economies is a project of Solidarity Research Center in partnership with UCLA Asian American Studies Center and National CAPACD. For more information about our five-part webinar series, see our website.
Organizer
Our goals are to cultivate ideas, tools, and resources so Asian American communities can self-determine a new economy that is radically inclusive, just, sustainable, and democratic.