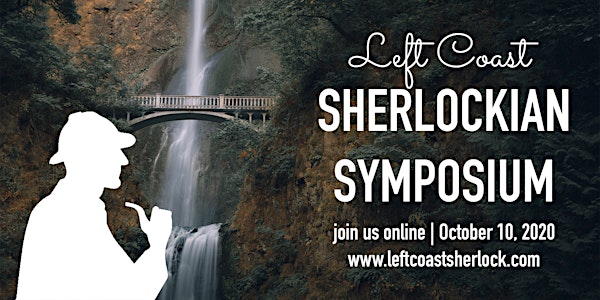 Left Coast Sherlockian Symposium 2020
The Left Coast Sherlockian Symposium returns as a virtual event for 2020!
Refund Policy
Refunds up to 1 day before event
Eventbrite's fee is nonrefundable.
About this event
The Left Coast Sherlockian Symposium was created in 2019 in the vacuum of Sherlock Seattle, and molded in the image of Scintillation of Scions, 221B Con, and other Sherlockian events around the United States. Join us October 10th 2020!
This a one-day virtual event is hosted by your friendly west coast Sherlockians, made up of educational and enlightening talks, camaraderie, and a good time.
Registration for the Symposium includes all talks and a social "cocktail hour" following the talks on Saturday evening.
Please visit our website for more information about the event: ww.leftcoastsherlock.com.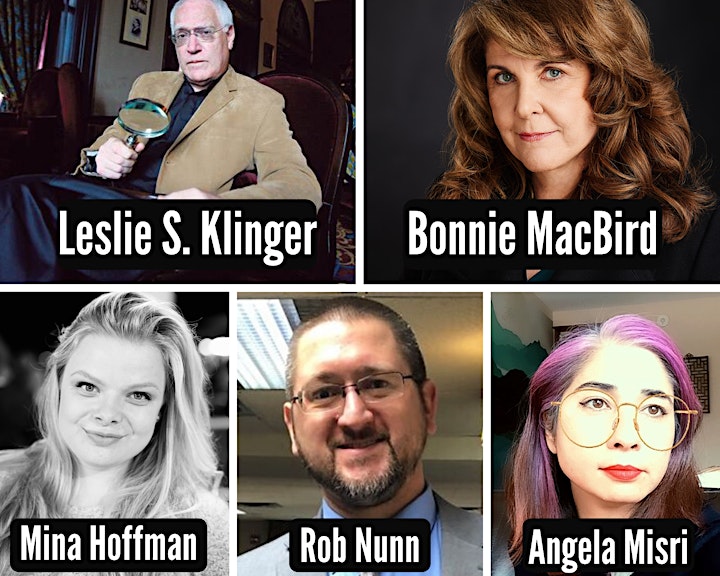 Speakers
Mina Hoffman is a Los Angeles based storyteller and marketer working at CBS Interactive. She is a graduate of Point Park University with a Bachelor of Arts in Cinema Production concentrating in Directing. Mina's been creating films since she was eleven and has definitely come a long way from directing her barbies and sister in living room productions. Mina's latest film, Sherlock Holmes and the Adventure of the Furtive Festivity, is currently giving LGBTQ+ people life across the internet and competing in film festivals worldwide. Mina's biggest passion is telling compelling and inclusive stories - all while tickling your funny bone.
Bonnie MacBird, BSI, ASH, has loved Holmes since age ten. After a serial career as a story exec at Universal, a screenwriter (TRON), an Emmy winning documentary producer, a theatre actor and a writing teacher at UCLA Extension, MacBird reinvented herself in 2015 as the author of the acclaimed Sherlock Holmes Adventure Series for HarperCollins. Her traditional Conan Doyle-style thrillers ART IN THE BLOOD (2015), UNQUIET SPIRITS (2017) and THE DEVIL'S DUE (2019) have been translated into 17 languages, and made Publisher Weekly Editor's Pick, along with kudos by Forbes, The Spectator, and many others. Michael Dirda of the Washington Post called The Devil's Due "the best Sherlock Holmes novel of recent memory". MacBird lives in Los Angeles and London where she's currently at work on the fourth in the series, THE THREE LOCKS.
Leslie S. Klinger is the two-time Edgar® winning editor of New Annotated Sherlock Holmes and Classic American Crime Fiction of the 1920s. He has also edited two anthologies of classic mysteries and, with Laurie R. King, four anthologies of stories inspired by the Sherlock Holmes Canon, with the fifth, In League With Sherlock Holmes, due from Pegasus Books in December. Klinger is the series editor of Library of Congress Crime Classics, a partnership of the Library of Congress and Poisoned Pen Press/Sourcebooks, and the series editor of the History/Biography series of the Baker Street Irregulars Press. A friend tagged him as "the world's first consulting Sherlockian," and he has served as a consultant on the two Warner Bros. Holmes films, the new Legendary Pictures film "Enola Holmes," and on many comics, graphic novels, and books. In 2012-14, Laurie R. King and he successfully litigated with the Conan Doyle Estate Limited to establish the copyright rules regarding the characters of Holmes and Watson. Klinger is invested in the Baker Street Irregulars as "The Abbey Grange" and lives in Malibu, California.
Angela Misri is an award-winning journalist, author and educator. She's also a Master Bootmaker and an avid Sherlockian. Her young-adult detective series, called The Portia Adams Adventures, is set at 221B Baker Street in the 1930s, and her first middle-grade novel is called Pickles vs the Zombies and was published by Cormorant books in September, 2019. Misri has an MA in journalism from the University of Western Ontario and has worked as a digital journalist for almost 20 years, first at the CBC and now at The Walrus. She also teaches in the journalism faculty at Ryerson University in Toronto.
Rob Nunn is the Gasogene of The Parallel Case of St. Louis, Lamplighter of the Priory Teachers Association, Program Chair of the Beacon Socieety, and member of other Sherlockian groups. He is the recipient of the Beacon Award for his annual Sherlock Holmes unit he teaches to fifth grade students, author of The Criminal Mastermind of Baker Street, and co-editor of the forthcoming The Finest Assorted Collection. His writings have also been published in the BSI Professional Series book, Education Never Ends, The Sherlock Holmes Journal, The Watsonian, and other anthologies. He lives in Edwardsville, IL with his wife and daughter and his thoughts on Sherlockiana can be found on his blog, "Interesting Though Elementary".