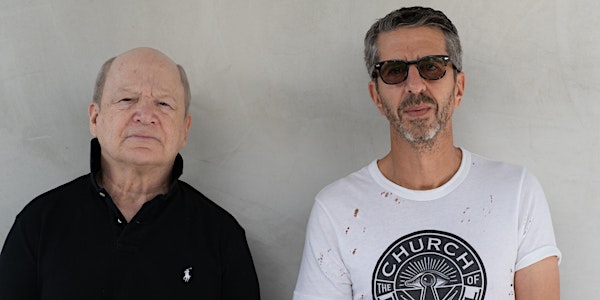 Lefsetz vs. Flom - No Holds Barred @ GAMH - CANCELLED
When and where
Location
Great American Music Hall 859 O'Farrell Street San Francisco, CA 94109
Description
Due to scheduling conflicts, Lefsetz vs. Flom's performance at Great American Music Hall on October 30th is cancelled. Please contact your point of purchase for refunds.
Door 7 / Show 8
SEATED SHOW
"Jason Flom is one of the most successful A&R people of all time, having signed everybody from Kid Rock to Katy Perry, Tori Amos to Lorde and now Greta Van Fleet. "The Lefsetz Letter" is read by a who's who in the music business, from Michael Rapino to Drake, from Irving Azoff to Steven Tyler. Come see Jason and Bob debate the issues that matter in today's cacophonous music business world, from getting signed, to marketing and distribution. Expect a no-holds barred conversation where names are named and foibles and successes are illuminated. If you want to hear how the music business really works, THIS IS THE PLACE!"
Jason Flom
Jason Flom is the Founder and CEO of Lava Records, Lava Music Publishing, and Lava Media, LLC. Flom previously served as Chairman and CEO at Atlantic Records, Virgin Records, and Capitol Music Group, and he is personally responsible for launching acts such as Katy Perry, Kid Rock, Lorde, and Greta Van Fleet. He is a leading philanthropist and expert on criminal justice issues and an internationally recognized and celebrated public speaker. Flom is the founding board member of the Innocence Project and serves on the boards of numerous criminal justice reform organizations. He is the host of the hit podcast, Wrongful Conviction, now in its sixth season, which features interviews with men and women who have spent decades in prison for crimes they did not commit, some even sentenced to death. Flom's love for animals inspired his latest project, the children's book Lulu Is a Rhinoceros, co-written with his daughter Allison Flom and released in June, 2018. The book explores social themes addressing individuality, tolerance, and most importantly, acceptance, and launched with partnerships including Bonobos, Zappos, and the African Wildlife Foundation.
Bob Lefsetz
Bob Lefsetz, Santa Monica-based industry legend, is the author of the e-mail newsletter, "The Lefsetz Letter." Famous for being beholden to no one and speaking the truth, Lefsetz addresses the issues that are at the core of the music business: streaming, ticketing and the music itself. His intense brilliance captivates readers from Steven Tyler to Drake to Deadmau5 to Quincy Jones to music business honchos like Michael Rapino, Jay Marciano, Steve Barnett and Irving Azoff. In these days of turmoil, "The Lefsetz Letter" is a must-read. Never boring, always entertaining, Mr. Lefsetz's insights are fueled by his stint as an entertainment business attorney, majordomo of Sanctuary Music's American division and consultancies to major labels.
TICKET INFORMATION
• Great American Music Hall is an ALL-AGES (6+) venue.
• No refunds or exchanges are permitted.
• Once you purchase, you will receive an order confirmation email from Eventbrite on behalf of Slim's Presents.
• IMPORTANT: If you do not see your order confirmation in your inbox, make sure to check your junk/spam folder. If you still do not see your order confirmation, click here to access the Eventbrite help center.
• If you are having any other technical ticketing-related issues with your order, click here to contact Eventbrite. For general show info, click here.