Description
Moab has been a bucket-list mountain bike destination for decades, and the Slickrock Trail tops the list by virtue of its iconic scenery, steep pitches and other-worldly terrain. If you can ride well at Slickrock ... well ... you can ride well. This makes Slickrock the perfect place for a mountain bike skills class.
Join us for a Level 2 mountain bike skills class. We will teach you the simple, powerful movements that fuel all great riding, then we'll plug your kung fu into one of the world's great trails.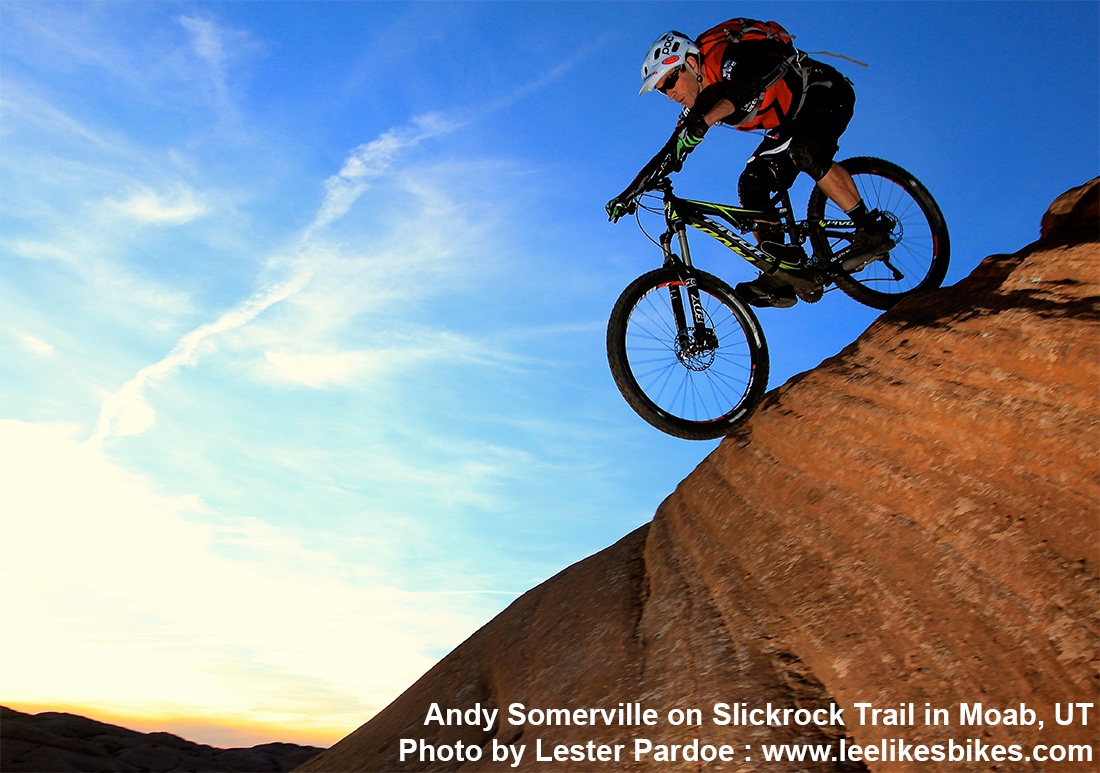 Learn to rip with RipRow™
When you take this class, you get a chance to use the revolutionary RipRow off-bike training device. Lee McCormack invented RipRow to simulate the essential movements of great riding, and there is no better tool to help you imprint perfect muscle memory.
We'll start class on the RipRow, and you won't believe how quickly and easily the rest of the skills come to you. It's truly awesome. Enduro legend Curtis Keene says RipRow™ makes him faster. Imagine what it can do for you!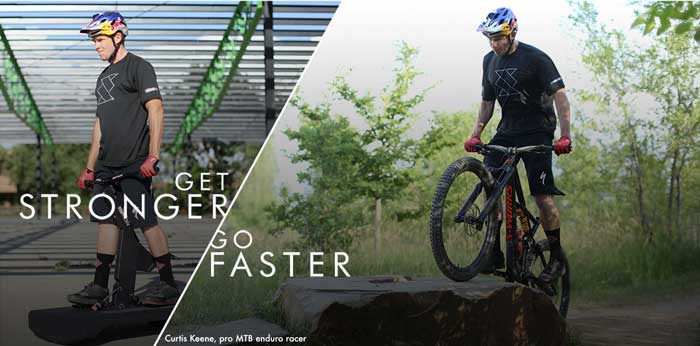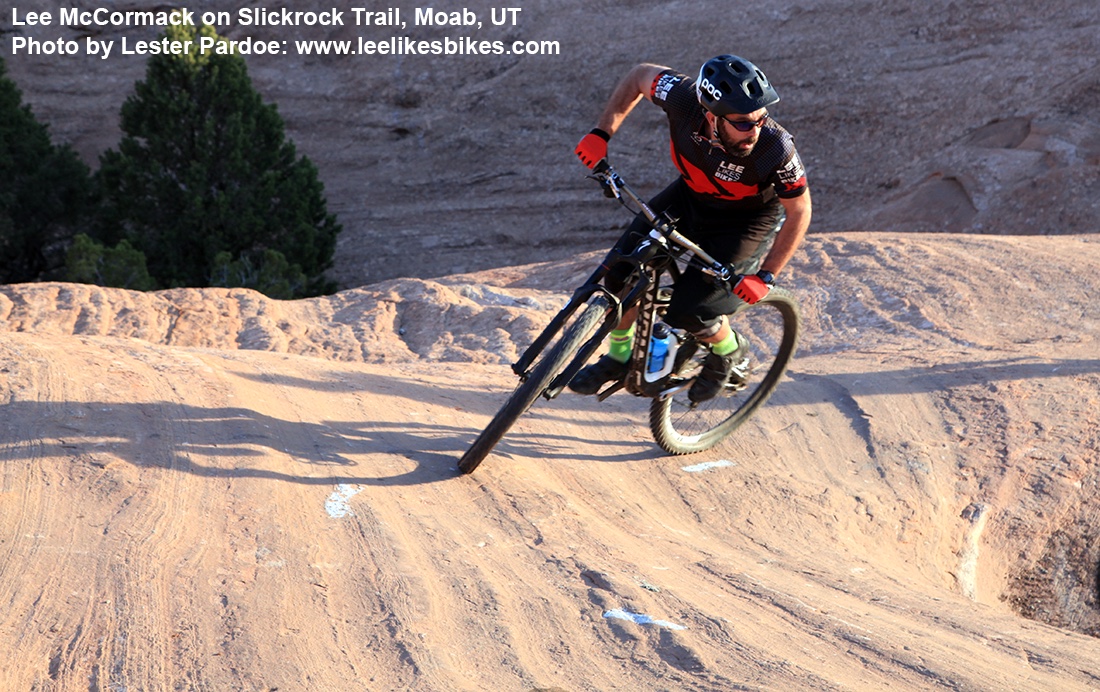 Overview
• 4 hours: 11 a.m. to 3 p.m. with a short snack break.
• Maximum 6 people per class, minimum 4 people per class.
• $150 per person
To maximize clinic time, prepare before our session by completing lessons in the LeeLikesBikes Online Mountain Bike School at www.llbmtb.com (One free month of access is included with the clinic).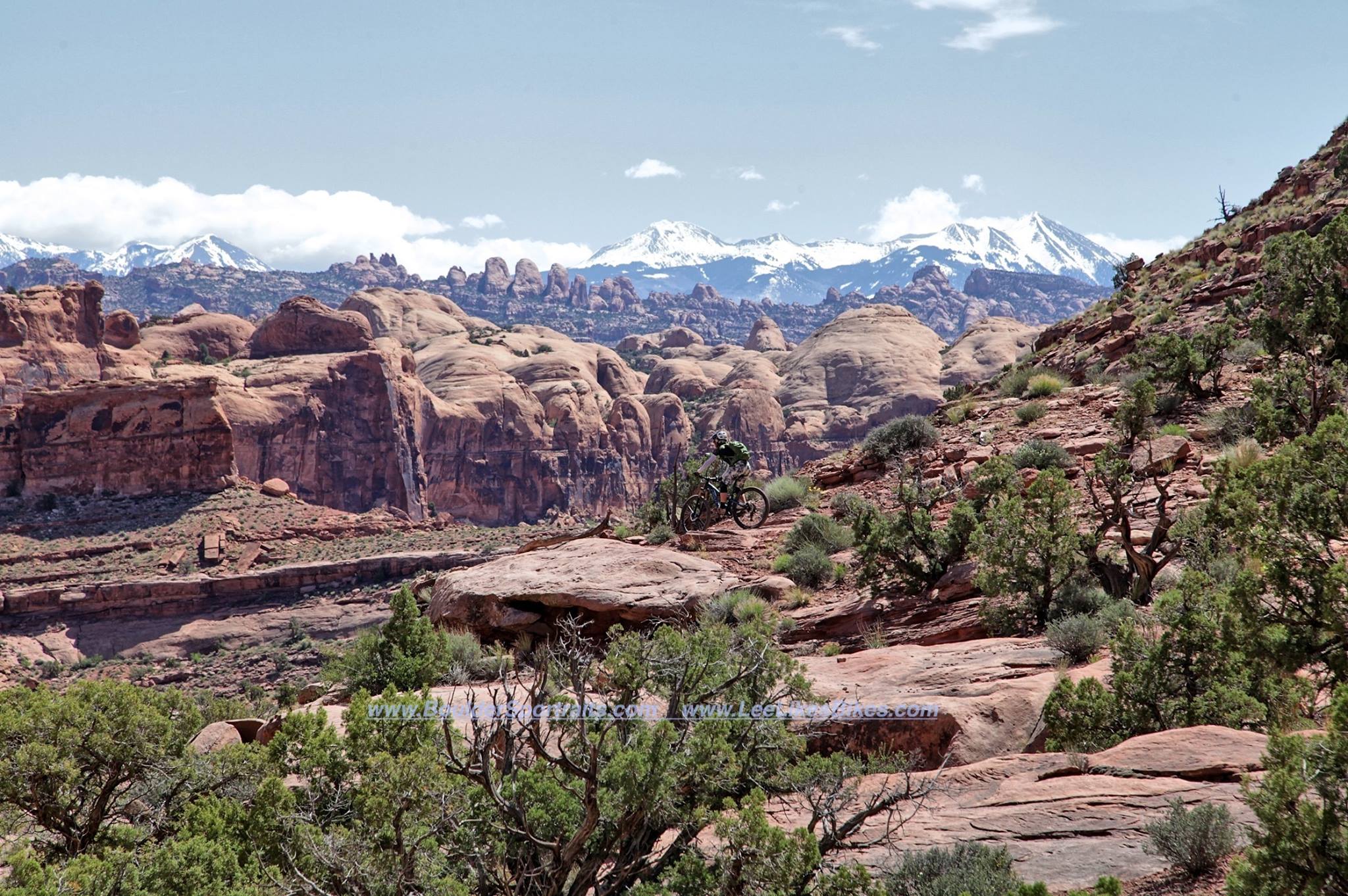 Janet takes in the Moab scenery

Riding up and down ledges is a critical Moab skill. Gina rocks upward on Slickrock trail
What to expect
You should be a relatively fit, experienced rider. If you've taken a Lee Liles Bikes Level 1 class, that's excellent but not necessary.
This Level 2 class will cover the core skills (they are the key to higher level performance, not to mention confidence and safety), but we will move faster than in a Level 1 class, then we will climb higher into the skills tree.
Expect to quickly cover this Level 1 content …
Position
Braking
Basic cornering
Upper body control in bumps (basic pumping)
… then dive into:
Advanced pumping (on crazy sandstone!)
Pedaling out of the saddle
Rocks and ledges
Drops
Jumps
Whatever else the group is ready for
When you finish this four-hour whirlwind tour, you'll have a solid toolkit that you can use on any type of trail—and that you can refine infinitely. We give you the Path to Mastery, so you're always in the sweet spot: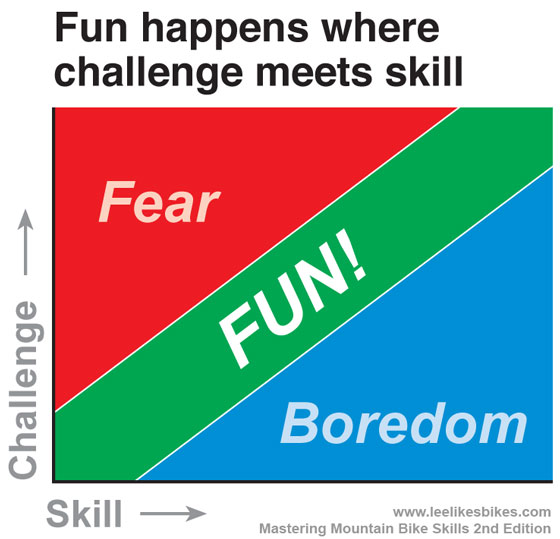 Learn more about the LLB Teaching Method >>>
What you need to bring
An all-mountain, enduro or aggressive trail bike. Moab's trails are best enjoyed with modern suspension and geometry. If you don't have a bike, you can rent one in town.
Your normal riding gear, including protective gear and clothes for any weather.
An open mind!
FAQs
Why are we covering the basics?
There are a few reasons:
1) We will not send you flying through the air without knowing, with high confidence, that you will land safely.
2) True mastery begins at the foundation. No matter how good you are (or think you are), you can always refine your fundamentals—and that's how you get great. Check out 7-time XTERRA world champion Conrad Stoltz. He's a big fan of LLB kung fu.
3) The basics give us a shared physical and verbal vocabulary. Once we program the core movements, higher level riding is just a matter of combining them and making adjustments with timing and power.
How much will I learn?
You'll learn as much as you're ready for. We'll push you as quickly as we can, while maintaining quality and safety.
I am total badass. Why do I need this?
The true badasses—riders like Brian Lopes, Curtis Keene and Conrad Stoltz—know they are on the path to kung fu awesomeness, and that path never ends. The moment you think you're finished learning, you're finished having fun (and your days of true shredding are over).
If you think you're too cool for school, spend that $150 on some carbon handlebars.
In this video world champion Conrad Stoltz and Lee talk about kung fu and shred some Colorado trails. Watch it on YouTube >>>
About your coach, Kevin Stiffler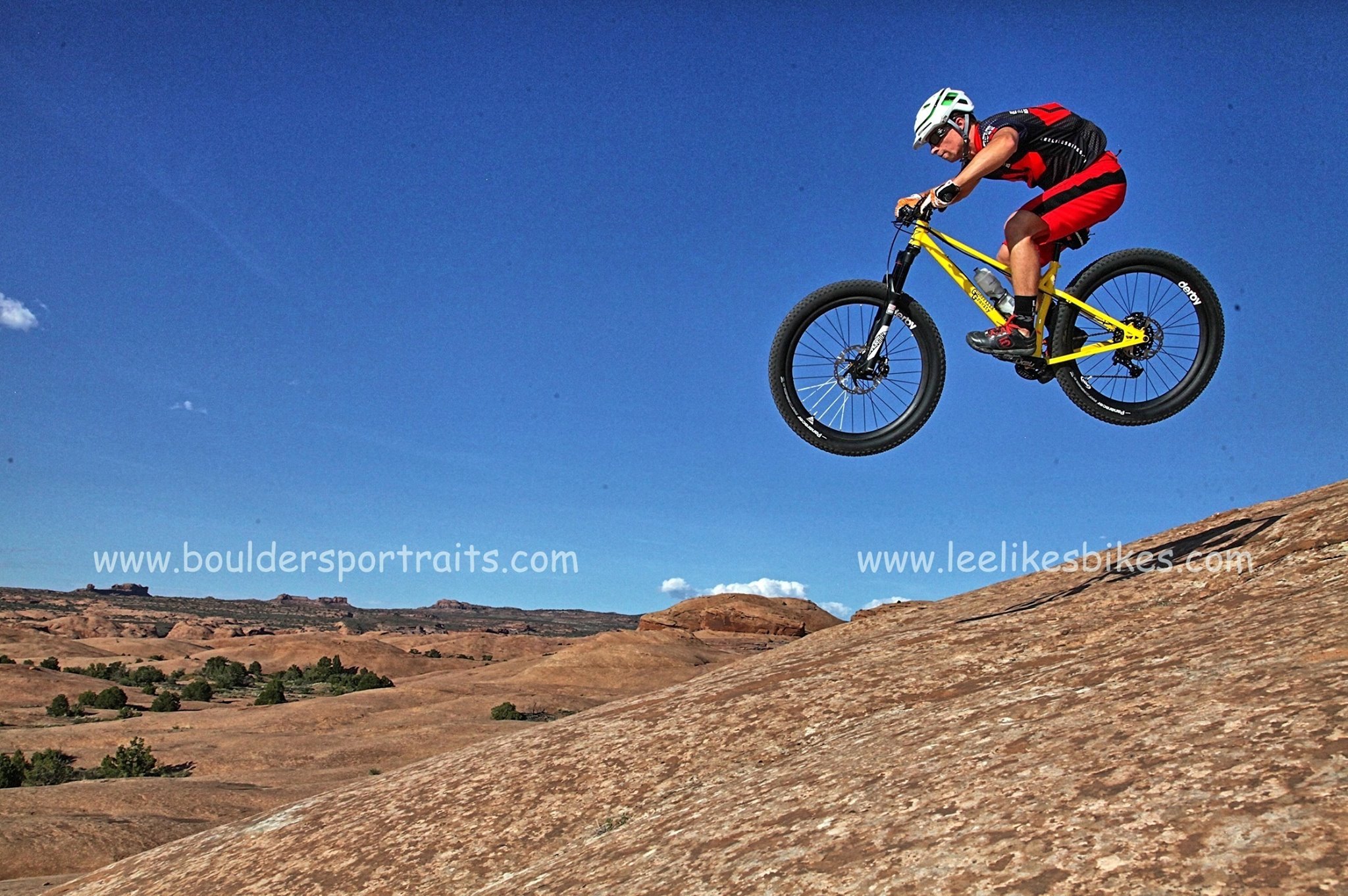 Kevin is a special blend of intellectual giant and physical badass. He has an A.S. in Mechanical Engineering, a B.S. in Applied Technology Education and a Masters in Online Education; he has recently completed his Doctoral studies in Education, Curriculum Development. He is a highly skilled rider with a strong background in BMX and freestyle, and he is an excellent teacher.
Learn more about Kevin >>>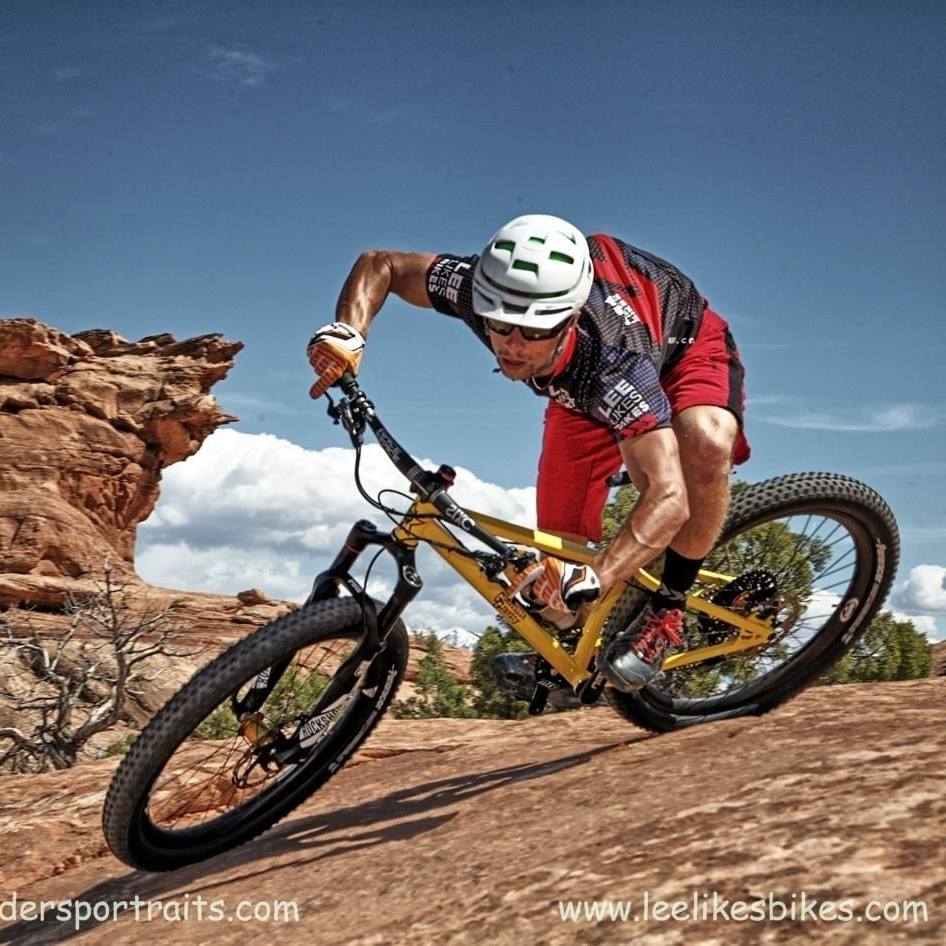 Coach Kevin rails a turn in Moab

About Lee McCormack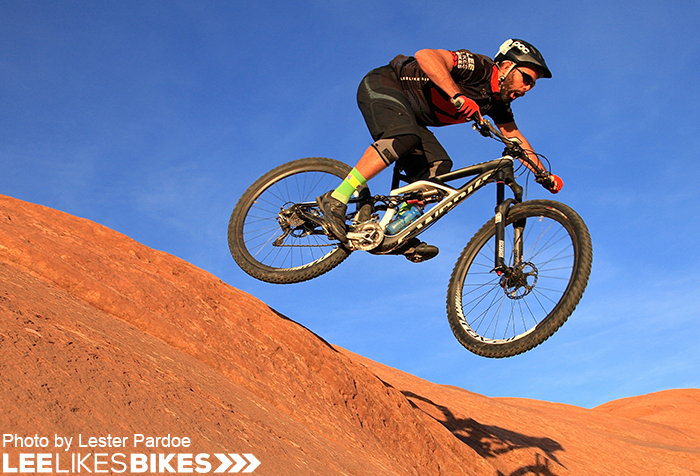 Lee (the Lee in Lee Likes Bikes) is a world renowned skills author and instructor, as well as the skills development director for the National Interscholastic Cycling Association. He has trained thousands of riders, including beginners, pros and high school coaches throughout the United States. His books and website are helping riders worldwide have more fun on their bikes. Lee is stoked to have Kevin out there teaching the kung fu and spreading the stoke.
Learn more about Lee >>>
"I think what you're doing is absolutely awesome. Truly awesome. I wish I'd have learnt of your classes and camps earlier. It seems like there is nobody else out there trying to do it right. … Absolutely amazing in the progression from 'No chance of me riding that in this lifetime, up or down,' to 'that was easy and totally rad, let me go do it again'"
Phil from SoCal

Phil was this stoked on Day 1, and even more stoked by Day 4.
"It was a great experience overall. I like how the training dispelled a lot of bad habits I learned before coming to this camp. I liked the challenging nature of the camp and doing it on difficult, expert-level trails in a prominent mountain biking hub in the U.S. This experience is good for all levels of mountain biking from beginner to expert—no matter who you are, you are always constantly learning to be better. … I like how Lee has continued to be invested in my improvement after the camp via e-mail. It says a lot about how passionate he is about his work."
Carlos from Columbia

Carlos was the Most Improved rider. I'm so glad he stuck with us and got to enjoy this moment of glory!
"I think Kevin and Lee are great coaches. They all have different styles of riding and athletic backgrounds, but bring a lot to the table. I did like how Lee was always patient during/throughout the camp and responded to my questions in my e-mail before and even after the camp. I like how all coaches gave us the opportunity to be better mountain bikers after leaving the camp. I like how they are all down-to-earth and willing to talk about everything from training as well as normal everyday conversation."
Neil from New Mexico

Neil is an accomplished Ironman triathlete. After this camp, he announced he's riding flat pedals for at least a year—and switching to XTERRA off-road tris.
"The complexity of mountain biking broken down into chewable pieces of information to be applied for immediate successful results. … Kevin was incredibly patient and his willingness to teach and answer questions made him invaluable. … Lester did a wonderful job with the logistics of keeping camp going, and I can't wait to see all of his pictures. Pretty impressive to ride with such equipment. Great lecture on nutrition and training; I want to hear it again. … Lee kept explanations as simple as possible and pushed me to engage at a higher level. I love the way philosophy, math, physics, anatomy and physiology, and humanities comes together."
Ardell from Arizona

Ardell was rocking a brand new Pivot Les … and loving it.
"I learned a few things and got a much better feel for some techniques I'd never really got before. I did a ride the day after the camp and felt things were really coming together, and I was riding better than I ever had before. I'm super stoked to go ride like this on my home trails now!"
Jeff from NorCal