About this Event
This is a standing show with an open floor. The Cedar always reserves a section of seats for patrons who require special seating accommodations. To request seating or other access accommodations, please go to our Access page.
General Admission tickets are available online, by phone, Electric Fetus, and at The Cedar during shows.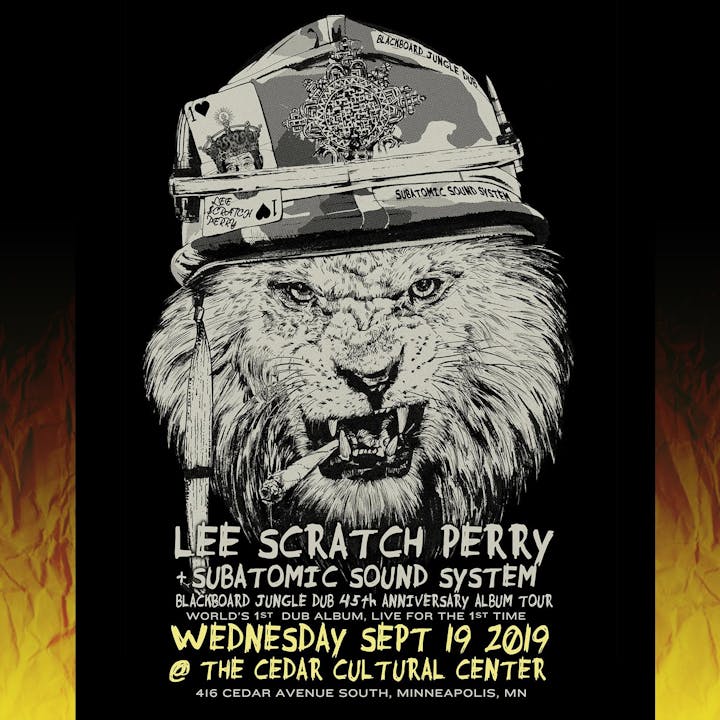 LEE "SCRATCH" PERRY + SUBATOMIC SOUND SYSTEM
Grammy winning dub & reggae pioneer Lee "Scratch" Perry celebrates the 45th anniversary of his landmark album "Blackboard Jungle Dub", the world's first dub album, by performing it live for the first time on tour. Scratch, now 82 years young, will embark on a tour across North America throughout 2019 performing his 1973 studio masterpiece live in its entirety for the first time, aided by the technology of NYC's Subatomic Sound System, his hybrid band of new school electronics and veteran Jamaican musicians from the Black Ark era recordings (http://bit.ly/BJD45t). They will also perform music from their album "Super Ape Returns To Conquer" (http://bit.ly/SS033s ) which topped both reggae and electronic charts in 2018, plus singles like "Black Ark Vampires" (http://bit.ly/BAVss ) and classics from Perry's work with the likes of Bob Marley, Max Romeo, and many more. Perry's Blackboard Jungle album includes dub remixes of hit songs he co-wrote with Bob Marley, "Kaya" & "Keep On Movin", as well as other big tunes from The Wailers and Junior Byles. Kaya turned out to be Marley's most successful album of his career and celebrated its own anniversary with a massive festival earlier this year.
Local DJ, Rey Azucar will provide an opening set to kick off the night.