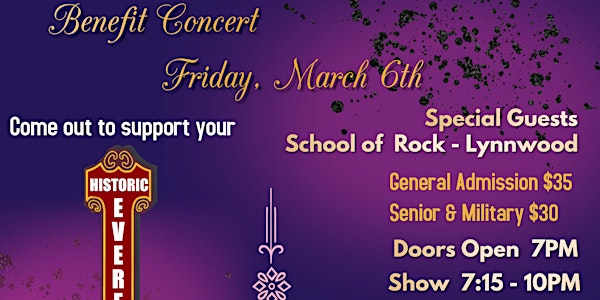 Lee Oskar & Friends HET Benefit
Event Information
Performers
Lee Oskar (WAR) and Friends
Location
Historic Everett Theatre
2911 Colby Ave
Everett, WA 98201
A Benefit for the Historic Everett Theatre.
About this event
If you appreciate the Historic Everett Theatre please attend this Benefit Concert on 100% of proceeds go to keeping the doors open. We need the community's support! Thank You! 😀
7:00: DOORS OPEN
7:15: School of Rock (Lynnwood)
8:00: Lee Oskar & Friends
9:50: RAFFLE
*There will be raffle tickets sold at the door. $10 per ticket and go towards Lee Oskar Harmonicas Super Pack: Any Lee Oskar Harmonica Tuning in the Key of their choice, with engraved signature of Lee Oskar, as well as a Lee Oskar Harmonica Soft Case, T-shirt, CD and back pack
Lee Oskar is an internationally acclaimed harmonica virtuoso, composer, producer, harmonica manufacturer, and lifelong musical explorer. He is renowned for his iconic role as a founding member and lead harmonica player of the pioneering funk/jazz band who composed and recorded such hits as "Low Rider," "Spill the Wine," "Cisco Kid," "The World is a Ghetto," "Slippin' into Darkness," "Why Can't Be Friends," and many more chart-topping songs from 1969-1993. The band received Gold and Platinum awards for its nearly 30 live, studio and compilation albums and some 60 singles. Since then, Oskar and several of his original band mates from that era continues to perform as the LowRider Band.
Oskar's solo-notoriety comprises of awards such as the Instrumental Artist of the Year for Billboard (1976), as well as awards by Cashbox and Record World. He has also received American Society of Composers, Authors and Publishers Music awards for his solo compositions throughout the years. Lee continues to perform around the world with outstanding musicians from the US Pacific Northwest, known as Lee Oskar and Friends, featuring his own new arrangements, compositions and well-loved hit songs.
Proceeds go to benefit the Historic Everett Theatre Preservation Society
Performers
Lee Oskar (WAR) and Friends
Date and time
Location
Historic Everett Theatre
2911 Colby Ave
Everett, WA 98201
Refund policy