Description
Welcome to the 7th edition of the Ledlenser Trails In Motion Film Festival! This community focused event brings a collection of the finest trail and ultra running films to passionate audiences around the world. Join like-minded trail runners and adventurers for a special evening at Stone Street Studios.
Doors open at 6:30 pm and the screening starts at 7:07. The festival features these captivating films:
How To Run 100 Miles
Directed by: Brendan Leonard, Hilary Oliver + Aidan Haley
Produced by: Semi-Rad Media

The odds were stacked against Jayson Sime early in life: poverty, homelessness, dyslexia, bullying. But he learned to fight, literally and metaphorically, and battled his way to a successful career as a political organizer. In 2017, he entered his first 100-mile mountain ultramarathon, betting on his lifelong resilience to carry him to the finish line.
A Few Steps Further
Directed by: Erik Petersen
Produced by: Erik Petersen Productions

When Kevin Davis first began running, he was overweight and out of shape. He tried, but failed to finish a 1-mile run. Now, years later, he runs 100-mile races. He uses that fitness to support his other passion - backcountry hunting. In 2017, Davis was selected to run the Hardrock 100. Two months later he attempts a backcountry mountain goat hunt in the wilds of Alaska. The film looks at the crossover between endurance sports and hunting, and the need for public lands and wild places to do both.
Running On Empty
Directed by: Matthew Irving
Produced by: Irving Photo-Video

The average person walks Corsica's merciless GR20 trail in two weeks. Ultrarunner Rory Bosio is not average. With guest appearances of duct-taped hiking poles, anti-chafe gloves and local pizza, see what the 118 mile trail looks like in 50 hours.
On The Corner
Directed by: Yuta Wanabe
Produced by: RIGHTUP INC.

Japanese 100-mile runner Kenichi Yamamoto - one of the countries top athletes - has another life as high school teacher, helping to inspire his students to live and explore more. This film is a story of Kenichi's long journey of recovery, self-discovery and the lessons learned from persistence.
La Barkley – Sans Pitié
Directed by: Alexis Berg + Aurélien Delfosse
Produced by: L'Équipe
The Barkley Marathons is, for many, the toughest race in the world. In a remote corner of mountains in Tennessee, between former coal mines and an abandoned high-security prison, Lazarus Lake has been organizing for thirty years this underground event, which is both ultra-trail and Orienteering. A moving course, in the middle of the woods, without a precise path, five loops of about thirty-five kilometers to be completed in less than sixty hours. Since 1987, over 1,000 participants, only fifteen have finished ... "My idea was that only 1% of people can overcome it," says the organizer.
Built around Alexis Berg's splendid black and white photos, and co-directed by Aurélien Delfosse, La Barkley Sans Pitié retraces a fiercest 2017 edition. At the start of the last lap, they were only two of the forty registered. And at the end…
100 Miles of No Place I Would Rather Be
We are every excited to welcome filmakers Ben Gross and Jes Woods for the premiere of their film 100 Miles of No Place I Would Rather Be. The film follows Jes on her quest to finish the 2018 Javelina Jundred, one of the country's preeminent 100 mile races. Following the screening, we will have a Q and A with Jes and Ben where the audience is welcome to ask about anything, from training for ultras in NYC to the challenges of shooting for 20+ outside in desert.
More about the filmmakers: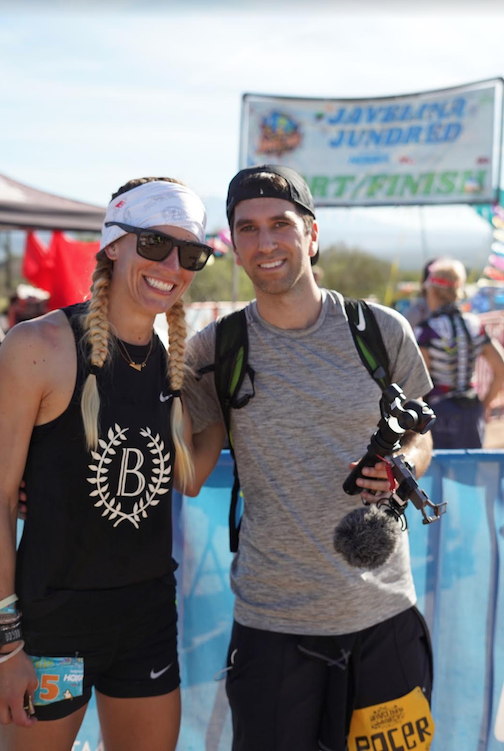 Photo by Gretchen Connelie

Jessica bleeds black and gold, born and raised in the Steel City, Pittsburgh, PA. She has a background in both Materials Science Engineering from Carnegie Mellon and Broadcast Operations and Engineering from NBCUniversal, and always had a passion for sport. After an eight-and-a-half year career in Broadcast, she carefully crafted a transition to follow her passion in both running and coaching.

Jessica's running resume spans the distance between the length of a triple jump runway to the Vermont 100 miler. Her first passion was track and field where she spent 9 years as a triple jumper and has since transitioned to the world of ultrarunning, completing 16 ultra marathons since 2012 (including four 100 mile races).

She currently manages the Flywheel Chelsea Studio and in addition to Studio duties, she coaches for Nike+ Run Club, inspiring and challenging those running with NRC since Fall 2012. She has coached first time runners, influencers, and high profile athletes like Cynthia Erivo to her first Half Marathon (and everything in between).
Benjamin is a filmmaker from New York City and a graduate of New York University's Tisch School of the Arts.
Benjamin's work ranges from creating Instagram influencer videos to directing content for the likes of New York Road Runners, Crunch Gym, and professional athletes. He's passionate about finding creative, compelling, and truthful ways to film a story and loves great ads that don't feel like ads at all.
You will likely find him running in Central Park, at the movies, eating pizza, or editing in the New York Public Library.