Description
NOTE: If you are looking to register at team for IoTHackDay you should go to the IoTHackDay Website.
This registration is for the associated LED Costumes event for kids...
Do you have kids or might like to participate in hacking in additional ways? Join the LED Costumes event going on during IoTHackDay!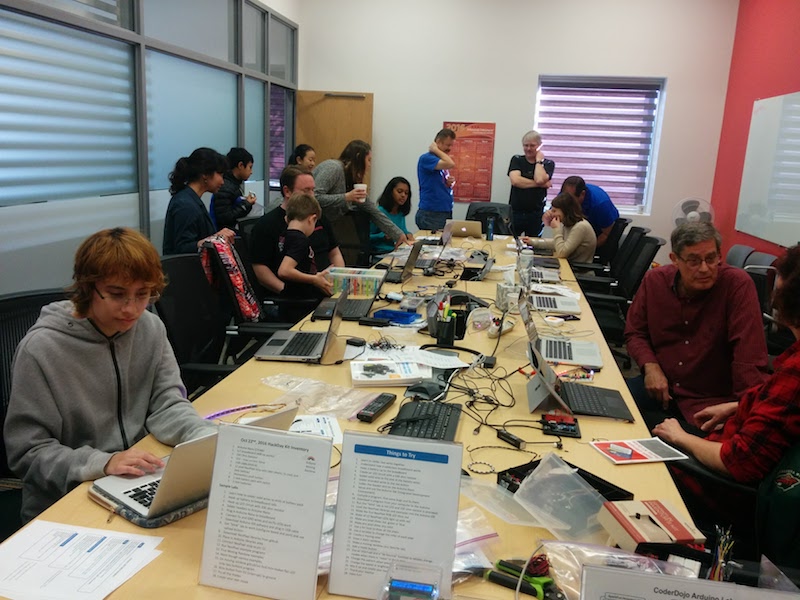 Kids (and parents/caregivers)... come that day to the same location and learn how to create your own glowing costumes! We will have sample materials to create LED glowing costumes that you can program with a low cost Arduino computer. Prior students have created hats, necklaces, bracelets, tie clips or belts that they can program with various colors and patterns. Anyone can attend and learn how to make these colorful costumes and program the lights... however we encourage anyone that comes to program the costume accessory to do the following:
Bring your own laptop to program the devices

Bring some ideas of costume accessories that you would like to create

Although we will have jump drives will the Arduino software on it, we also encourage you to download the Arduino software before you come to the session

Feel free to get familiar with our "Moving Rainbow" sample programs
For each person participating we will supply you and you will be able to take home:
one Arduino Nano

one USB cable

one 12 pixel-addressable RGB LED strip (based on WS-2812B)

one 400-tie breadboard

one on-off switch

one mode switch to change the color pattern

jumper wires

battery pack that holds 3 AA batteries to power the lights
At the end of the day we hope to have a small costume contest with awards for the most creative costumes. Our focus is on getting kids interested in programming but all ages are invited to participate.
Note, the cost is $20, but if you attend you will receive a 50% refund and your child will take their kit home! We will have the kids show off at 4:00 to the others attending what they have built! Lunch and dinner included during the day for you and your child. Register today as space is limited. We will sell out again this year!