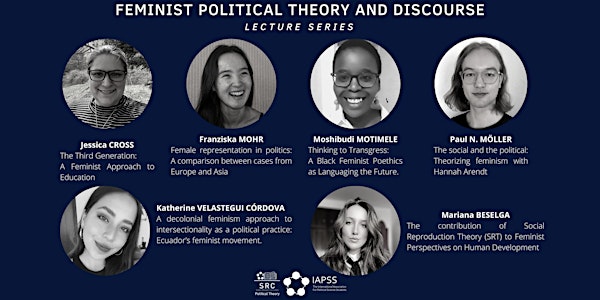 Lecture Series on Feminist Political Theory and Discourse Day 1
This lecture series aims to explore the concept of feminism through the lens of six established and upcoming academics.
About this event
Lectures on Day 1
The Third Generation: A Feminist Approach to Education, by Jessica Cross, PhD Candidate in Political Science, University of Connecticut
Based on Anna Julia Cooper's theory that "in order to reform a man, you must begin with his great-grandmother," this lecture takes an intimate look at three generations of women in one family and their journey from a mental hospital to PhD candidacy. Utilizing the works of Anna J. Cooper, Mary Wollstonecraft, and He-Yin Zhen, this lecture will emphasize the exponential impact education has on all of humanity; and asks how many generations it will take to fix the education deficit worldwide.
Female representation in politics: A comparison between cases from Europe and Asia, by Franziska Mohr, BA Candidate in Political Science, University of Innsbruck
Due to stereotypes of gender and career choices, seeing a high number of females in leading positions, whether in politics or business, is still not very common. However, Sweden and Philippines, both exhibiting high levels of gender equality in Europe and Asia respectively, have shown that women can successfully run and manage a leading position in politics.
This presentation analyzes female representation in politics in four European and Asian countries. It compares the "feminist" countries, the Philippines and Sweden, and contrasts them with South Korea and Germany which are still working on gender equality, especially on the representation of women in politics. It has been found that gender stereotypes, particularly those attached to women, inhibit the representation of women in politics or other leading positions. This is predominantly observed in Asia, where the feminist movement began only in the 1960s, in contrast to Europe, and especially Scandinavia, which experienced the first wave of feminism in 1850.
Register for Day 2: https://feministlectureseries-day2.eventbrite.com
Register for Day 3: https://feministlectureseries-day3.eventbrite.com