Lecture: LGBTI Rights in Islam with Imam Daayiee Abdullah, America's First Openly Gay Imam

Saturday, January 4, 2014 from 4:00 PM to 6:30 PM (PST)
Event Details
Muslims for Progressive Values
is proud to host
Imam Daayiee Abdullah
on
"LGBTI Rights in Islam"
 Imam Daayiee is MPV's LGBTI Outreach Director based out of Washington D.C. Los Angeles is suppose to be a liberal city but we rarely have this discussion in the wider Muslim community. Here's your chance to hear the theological basis for the reinterpretation of the story of Prophet Lot, and for debunking marriage as that between a man and woman only. Learn about all that MPV is doing for the LGBTI Muslim community and what we will be rolling out in 2014.
Read Al Jazeera America's feature on Imam Daayiee. 
 This is a fundraiser event. Your support is greatly appreciated.
Program:
4:00pm: Welcome by Ani Zonneveld, Founder and President of Muslims for Progressive Values
4:10pm: Presentation by Imam Daayiee Abdullah 
5:00pm: Q&A
5:45pm: Reception
6:30pm: Conclusion (End)
Light Middle Eastern foods and drinks will be served after the talk courtesy of Cafe Rumi
If you love the work we do, we invite you to join our mailing list by signing up at http://mpvusa.org/get-involve/ and to donate.
Join our inclusive and loving community:- the MPV Los Angeles Meetup group http://www.meetup.com/MPV-LA/
#####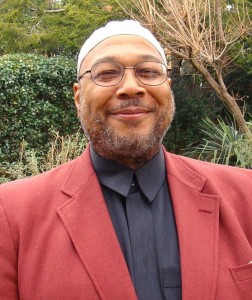 Daayiee is a prominent sexuality rights activist within Muslim and interfaith contexts, and Imam of Masjid el-Tawhid An-Nur Al-Isslaah (Mosque for Enlightenment and Reform), and affiliated with the California-based organization MPV (Muslims for Progressive Values) as MPV-Washington, DC co-chapter leader. Daayiee is a scholar, a former public interest lawyer and a specialist in Shari'ah Sciences/Quranic Interpretation. He frequently lectures internationally on progressive Muslim concepts, interfaith networking and the development of inclusive revisions of Islamic theological thought and interpretations of shari'ah. He has also long been involved in actively promoting understanding and awareness of issues of racial, sexual and gender equality both within and beyond Muslim communities.
When & Where

Cafe Rumi
5998 W. Pico Blvd
Los Angeles, CA 90035


Saturday, January 4, 2014 from 4:00 PM to 6:30 PM (PST)
Add to my calendar
Organizer
Muslims for Progressive Values
MISSION:
Established in 2007, Muslims for Progressive Values (MPV) is a faith-based, grassroots, human rights 501(c)(3) organization that embodies and advocates for the traditional Qur'anic values of social justice and equality for all, for the 21st Century.
We are the only American movement that advocates for egalitarian expressions of Islam, for women and for LGBTQI rights, and for freedom of religion and belief.
VISION:
MPV envisions Islam and an Islamic community that embodies the ten principles of MPV. Further, MPV envisions a future where Islam is understood as a source of dignity, justice, compassion and love for all humanity and the world.
WHAT WE DO: 
MPV establishes and nurtures vibrant progressive Muslim communities. We do this by creating opportunities for religious discourse, volunteer and community activities, and cultural events bringing together the arts, spirituality and social activism.
Since its inception in 2007, MPV has expanded its reach to include chapters and affiliates in 12 countries and 19 cities, and to securing consultative status at the United Nations.
At the United Nations, MPV challenges human rights abuses in Muslim-majority countries in the name of Sharia law. We do so by hosting panels and forums and filing shadow reports at the U.N.
For us in America, it is just important that our own progressive voices are heard loud and clear, and especially now. MPV has always been an American organization that spoke for the rights of all Americans – a women's agency and self-determination in every aspect of their lives including reproductive rights, supporting the fundamental rights of lesbian, gay, bisexual, and transgender people. We support Fair Sentencing for Youth– a chance for parole for crimes committed under 18, Caring Across Generations – a coalition of American organizations advocating for home care workers' rights to basic workplace protections. We are a member of the United Nations Committee on Freedom of Religion and Belief, and the national Planned Parenthood Clergy Advisory Board. 
Lecture: LGBTI Rights in Islam with Imam Daayiee Abdullah, America's First Openly Gay Imam