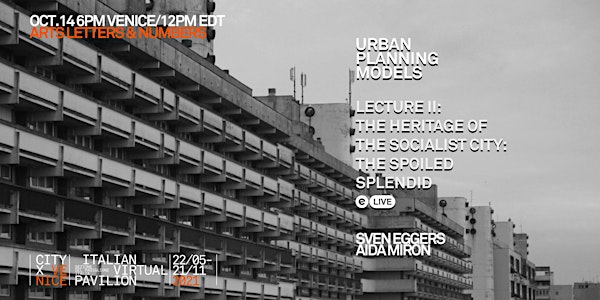 Lecture II: The heritage of the Socialist City: the spoiled splendid
URBAN PLANNING MODELS Lecture by Sven Eggers and Aida Miron
About this event
URBAN PLANNING MODELS
Lecture II:
The heritage of the Socialist City:
the spoiled splendid
Sven Eggers + Aida Miron (Q&A session)
The second talk is a 40 minutes lecture given by Sven Eggers on the possibilities the Socialist City had by programmings of designed environment and landscape and actual ways to cope with its heritage, followed by a discussion with Aida Miron.
The Socialist City was, in planned and chaotic ways, done by a diverse group of urban planners, architects, engineers, artists, sociologists, economists, designers. With a developing and sharpening model and a landscape to cope with it offered tremendous freedom on all scales for a designed habitation: on feast and restraint.

Aida Miron is an architect whose work is grounded in the fields of architecture, urbanism, landscape design and art. She has a B. Arch from the Cooper Union School of Architecture, a Masters in Architecture from La Escuela Técnica Superior de Arquitectura de Barcelona (ETSAB), a MFA from the Kunstakademiet i Trondheim-NTNU, a post-graduate diploma in Urban Studies from the Stiftung Bauhaus Dessau and studies in Landscape Architecture from the Arctic University of Tromsø/AHO and Philosophy from NYU. She taught Architecture at the Cooper Union School of Architecture in NYC and has been a visiting guest and academic critic in the US and Europe. She is co-founder of the landscape design + build studio, La Casona Garden Design in Miami, collaborator at Buero Schwimmer in Berlin, and lighting designer/specialist at Buro Happold in NYC. She lives in NYC and works between Miami and Varmland, Sweden.
Sven Eggers is architect, urban planner, and publicist. He works and teaches in the fields of architecture and cinema in Finland, the US, the UK, Czech Republic and Germany. He is co-founder of the cultural centre and cinema Tikozigalpa, and of the artist-/architect-based Büro Schwimmer. He has been visiting guest, jury member, and academic critic in Poland, Estonia and Sweden. His research concentrates on the conditions, performances and readability of public space, foyer space, and architecture, and the heritage of the Socialist City.
He lives in Berlin.
http://buero-schwimmer.de/home.html
http://www.lacasonagarden.com