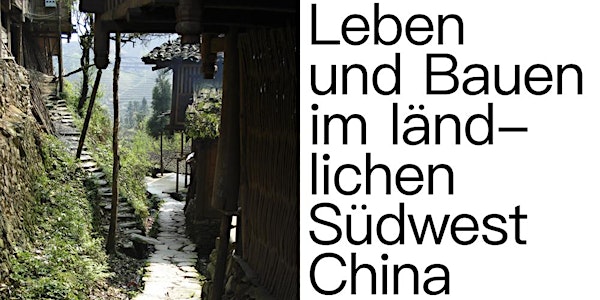 Leben und Bauen im ländlichen Südwestchina 中国西南乡村的生活与建造
Location
ZAZ Bellerive
Höschgasse 3
8008 Zürich
Switzerland
Refund policy
Refunds up to 7 days before event
Ein Bild von der Baukultur der Minoritätenvölker Die Tradition überdenken - Im Lichte der Gegenwart - Zum Nutzen der Zukunft
About this event
Joint Event mit
Swiss-Chinese Chamber of Architects and Artists (SCAA)
& Gesellschaft Schweiz-China (GSC)
Die Veranstaltung findet offline in Höschgasse 3 in Zürich und online via Zoom statt. Die angemeldete Teilnehmer bekommen einen Zoom Link via Email.
Vortrag mit anschliessend Apéro
Zeit: Freitag 26.Juni 2020
Ort: Höschgasse 3, 8008 Zürich
Referent: Dr. Christian Renfer, ehemaliger Denkmalpfleger des Kanton Zürich
Moderation: Mulan Sun, Präsidentin SCAA
Sprache: Deutsch
Anmeldung erforderlich: https://www.eventbrite.com/e/leben-und-bauen-im-landlichen-sudwestchina-tickets-107698751866
Kosten(offline & online) : SCAA und GSC Mitglieder gratis, Nichtmitglieder CHF20 , Studenten CHF 10
Kontakt: info@scaa.ch
Mehr information:
Swiss-Chinese Chamber of Architects and Artists (SCAA)
www.scaa.ch
Gesellschaft Schweiz-China (GSC)
www. schweiz-china.ch
___________________
Dr. Christian Renfer (geb.1943 und aufgewachsen in einer Berner Bauernfamilie) hat in Zürich und Wien Kunstgeschichte, Geschichte und Volkskunde studiert. Bis 2005 war er Denkmalpfleger des Kantons Zürich, bevor er über den Städteaustausch Zürich-Kunming (2002) und das ETH-Projekt in Shaxi/Yunnan (2003) in China Fuss fasste und sich bis in jüngste Zeit der Vermittlung westlicher Denkmalpflege an chinesischen Universitäten widmete. Das ermöglichte ihm während 15 Jahren ausgedehnte Reisen und Studien zum Hausbau der Minderheitenvölker in den ländlichen Provinzen, vor allem im Südwesten Chinas und den fachlichen Austausch mit chinesischen Kollegen.
___________________
Pay at the event door or payment Transaction:
Beneficiary's name/address: Swiss-Chinese Chamber of Architects and Artists (SCAA)
Adresse: Höschgasse 3, 8008 Zürich
Beneficiary's account number IBAN: CH44 0900 0000 6128 3584 8
Name/address of beneficiary bank: PostFinance AG, Mingerstrasse 20, 3030 Bern
PostFinance BIC (SWIFT-Code): POFICHBEXXX